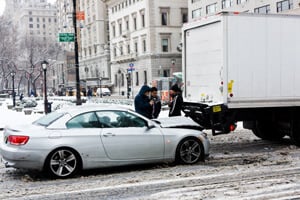 Car Accidents and Winter Weather
Over the last couple of weeks, temperatures have dropped across the Northeast and Mid-Atlantic states. According to a recent report from The Weather Channel, winter storms are to blame for the freezing temperatures accompanied by snow, sleet, and ice—conditions that have resulted in fatal car accidents and dangerous driving conditions.
In New Jersey and New York, the weather delayed air travel and threatened automobile drivers throughout both states. In the Philadelphia area, icy roads and dropping temperatures led to dangerous commutes and school closings in order to prevent accidents.
Icy roads which often lead to dangerous car accidents, can also result in serious slip and fall incidents. Indeed, in western Pennsylvania, a public works employee slipped on a patch of ice and hit her head. While the recent storms brought snow and ice to US roadways, it certainly will not be the last of the year. For residents of the Tri-State area, there is more wintry weather to come. With snow, sleet, rain, and freezing temperatures, it is important to take driving precautions. Indeed, an article in Forbes cited data from the National Oceanic and Atmospheric Administration (NOAA) which ranked New York City as the third-worst city in the country when it comes to winter weather. It sees more precipitation and low temperatures than many other places, and a high annual number of weather-related car accidents and injuries.
Get the Facts: Winter Weather and Car Accidents
The Federal Highway Administration (FHA) reports that more than two-thirds of US roads exist in regions that typically are affected by winter weather. As a result, winter conditions like snow and ice can make for very dangerous driving conditions:
More than 1,300 people sustain fatal injuries in car accidents caused by winter weather.
Nearly 120,000 people suffer serious injuries in traffic collisions produced by snow, slush, and ice.
About 40 percent of car accidents in the winter happen while it is snowing or sleeting, or on pavement and asphalt with a buildup of snow or ice.
How can you prevent car accidents during winter storms and freezing temperatures? According to the Centers for Disease Control and Prevention (CDC), you need to plan ahead by doing the following:
Have your car serviced for winter. This means having your radiator checked and antifreeze tested, replacing your windshield-wiper fluid with a mixture intended for low temperatures, replacing worn tires, and checking your air pressure in your tires.
Keep your gas tank nearly full to avoid getting ice in the tank.
While it can be difficult to remember all the steps you should take to prepare for winter driving, the following is a handy checklist from the CDC to remind you:
Check your antifreeze;
Replace your wiper fluid with a winter mix;
Check your heater and defroster;
Check your brakes and brake fluid;
Check your ignition;
Check your emergency flashers;
Test your exhaust;
Replace tires;
Regularly check tire pressure;
Keep your gas tank full; and
Check your oil.
In the event that you are involved in a car accident, contact an experienced car accident attorney to determine your rights.