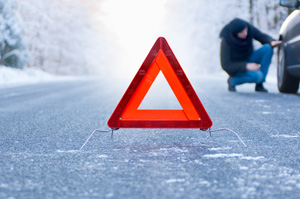 Check Your Tires Now to Prevent Car Accidents
Now that winter is here, it is important to make sure that your vehicle is ready for the wintry roads. Car accidents can be prevented, but you need to ensure that you take the proper steps to avoid highway catastrophes. According to a recent article from ABC News, tire stores have recently seen an increase in business as a result of low temperatures, snow on the ground, and the threat of icy roadways.
While winter conditions can seem to come on quickly and without warning, it is certainly possible to be prepared in terms of car maintenance. One of the most important steps you can take is to make sure that your tires are prepped for winter roads. What does this mean? First and foremost, if your tires do not have tread on them, you need to buy new tires. Freezing temperatures can also result in low tire pressure. Together with limited tread, these conditions can be ripe for a dangerous traffic collision.
If you have low tread, you cannot disperse the snow, ice and slush away from the tire. Therefore, vehicles that have tires with low tread can easily skid or slide on the winter roads. It is also important to remember that it is not just your safety that you need to consider. Indeed, if you fail to maintain your vehicle's tires and you get into a dangerous car accident as a result, you can be found responsible for property damage to another person's vehicle and his or her bodily injuries.
Are There Any Simple Ways To Tell If You Need To Replace Your Tires?
Tires generally are good for about 30,000 to 45,000 miles. After that, you need to replace them.
Take a penny and put it between the treads. If you can see Lincoln's head above the tire, your tread is too low and it is time to buy new tires. As the above article noted, one mechanic emphasized, "it's a lot less expensive to replace a tire than to get in an accident and have to pay repair bills."
Tips for Weatherproofing Your Vehicle
What can you do to weatherproof your car during the winter so as to avoid a deadly car accident? In addition to properly maintaining your tires, the Good Housekeeping Research Institute recommends the following steps to prevent a dangerous winter automobile crash:
Always de-ice your windshields: it is inexpensive to buy wiper fluid that has ice-melting additives, and you might even consider putting a coating of ice and frost shield on your windshield to prevent a dangerous ice buildup.
Always warm up your car before driving: by warming up your car before driving, you can ensure that the ice on your vehicle has melted.
Check your antifreeze: in the winter, your vehicle may need a different type of coolant to avoid freezing. Take your car in for routine maintenance and ask your mechanic to check your antifreeze level and type.
Winter is a dangerous season for driving, but you can take important steps to prevent car accidents. If you or a loved one has been injured in a serious car accident, contact an experienced car accident lawyer. When another driver has acted negligently, you deserve to be compensated.