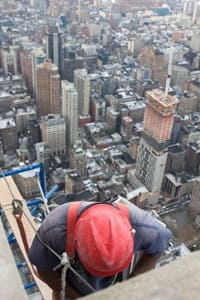 Construction Workers in NYC Support Safety Law
How safe are construction sites and how often do construction accidents happen in New York City? According to a report in ConstructionDive.com, they could be much safer. As such, lawmakers have proposed the Construction Safety Act, which "would require a number of new measures in New York City job sites aimed at preventing worker deaths and injuries." One of the more controversial aspects of the proposed legislation is an "apprenticeship program." Under the law, if passed, any construction worker employed on projects where buildings are "taller than 10 stories" would be required to complete the program.
Why is there a new push to change laws in New York surrounding construction sites and worker safety? Because accidents are happening on worksites, and construction workers are sustaining serious and fatal injuries. Changes to the law could help prevent some accidents and injuries. The New York Committee for Occupational Safety and Health (NYCOSH) highlighted this problem in its recent report, "Deadly Skyline."
Opponents argue that the apprentice program, in particular, does not make sense given the statistics. For instance, the Real Estate Board of New York contends that about three-fourths of all fatal construction injuries occur on buildings that are fewer than 10 stories, and as such, the apprentice program would not have an impact in preventing these injuries. Moreover, they argue, these smaller building projects are "43% more likely to have safety violations."
However, many construction workers and union leaders argue that changes to the law are necessary. They assert that "nonunion construction sites are not as safe as union jobs because of the hiring difference in training levels." Therefore, they are in favor of new safety legislation. Indeed, a group of construction workers, New York City community members, and even local officials came out in a demonstration to support the changes to the law.
Construction Accident Facts and Figures from the NYCOSH Report
What did the NYCOSH determine? The following facts and figures are contained within the "Deadly Skyline" report, emphasizing the need to improve construction worker safety in NYC:
Workplace fatalities in NYC are on an upward trend, with 464 construction workers sustaining fatal injuries between the years 2006 and 2015;
Falls are the leading cause of death among construction workers in New York;
59% of construction deaths in New York City are caused by falls;
In about two out of three cases (68%) where the Occupational Safety and Health Administration (OSHA) has investigated, there has been a safety violation;
Between 74% and 80% of all construction site fatalities occur at non-union construction sites; and
At non-union construction sites, OSHA finds about double the violations as at union construction sites.
If you or someone you love was injured in a construction accident, you may be entitled to financial compensation. Contact a construction accident lawyer to determine your rights.