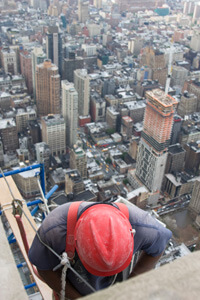 Increase in Injuries and Fatalities at New York Construction Sites
According to a recent article in The New York Times, the "building boom" in New York City may suggest to those outside the construction industry that safety concerns and construction accident fatalities are not as prevalent as they once were. However, the article emphasizes that there has indeed been an "increase in fatalities and injuries" that "has mostly affected undocumented laborers." What is particularly surprising about the recent trends in construction deaths is that the rate of serious accidents and injuries "far exceeds the rate of new construction."
What are the causes of some of the recent deaths? One of the most notable causes of construction accident fatalities in New York City has been preventable falls. For example, the article points to the death of a 36-year-old construction worker in Williamsburg, Brooklyn who "lost his balance and fell 19 feet to his death" last year. Shortly thereafter, a 58-year-old construction worker in Midtown Manhattan also slipped on scaffolding and fell eight stories to his death. Less than two weeks later, a 33-year-old construction worker at another site in Midtown fell 110 feet while attempting to attach plywood to a ledge. He, too, suffered fatal injuries.
The article emphasizes that, although the recent growth in construction throughout the boroughs has helped to transform blighted neighborhoods, it has "come at a sobering cost." To be sure, the rising number of construction accident injuries and deaths suggests to government officials that "safety measures at these job sites are woefully inadequate." Many of these accidents were "completely avoidable," the article reports.
New York Construction Accidents Facts and Figures
What do we know about the trends in construction accident injuries and fatalities? According to the article, the following facts and figures depict alarming trends in safety violations, injuries, and deaths:
Since July alone, seven construction workers have died as a result of construction accidents in New York;
In the last fiscal year, construction accident injuries rose by 53% to 324 total injuries;
314 accidents have occurred in 2015, which represents a 52% increase in total injuries this past year;
The total number of injuries recorded in 2015 is "more than two and a half times what the city tallied in 2011;"
A majority of all reported construction accidents occurred in Manhattan; and
Between November 2013 and October 2015, construction accidents occurred in Manhattan, the Bronx, Brooklyn, Queens, and Staten Island.
How could the recent construction accident deaths have been prevented? The following represent some of the safety violations discovered at these sites, according to The New York Times investigation:
Failure to take "basic steps" to install fall guards;
Failure to require workers to wear harnesses;
Failure to ensure that workers wore helmets;
Lack of supervision at construction sites; and
Premiums placed on speed of work, which led workers to "take dangerous shortcuts."
If you or a loved one suffered an injury in a construction accident, you may be able to file a claim for financial compensation.  Contact an experienced New York construction accident attorney to discuss your case.