According to American Academy of Ophthalmology 2009 report, over 700,000 LASIK surgeries are performed each year in the United States. While the vast majority of these patients are pleased with the outcome of the procedure, approximately 50,000 suffer vision complications, many debilitating.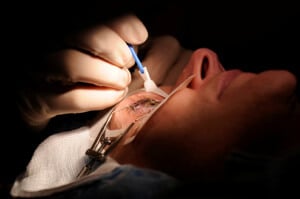 Critics charge the laser eye surgery industry, also known as "LASIK", with putting profits ahead of quality treatment. To be sure, most doctors who perform the procedure are reputable and well trained. Unfortunately, with the intense competition to win patients, many clinics have reduced prices to levels that are unsustainable. In order to recoup lost revenues, laser clinics are forced to schedule dozens of procedures each day, potentially compromising the safety of the patient.
The result is that five percent of LASIK patients will suffer from a reduction in vision, dry eyes, inflammation, or difficulty in driving at night because of sensitivity to glare. While often temporary, some of these adverse outcomes may prove permanent. According to the Food and Drug Administration (FDA), frequency of LASIK side effects includes:
Glare and sensitivity to light in 1.7 percent of patients;
Visual fluctuations in 2.6 percent of patients;
Halos around light sources are experienced by 3.5 percent of patients;
Approximately 3 percent of patients report worse vision than before.
Laser eye surgery takes about fifteen minutes. The doctor cuts a flap on the front of the eye, moving it out of the way in order to access the cornea. The doctor then reshapes the cornea in order to correct the vision problem.
It is the seemingly simple and fast-paced nature of the procedure that entices many patients to seek out laser eye surgery. However, as with any medical procedure, there can be complications, and despite lengthy consent forms, many patients do not appreciate the risks.
With the increasing number of LASIK-related errors, many disgruntled patients are turning to the courts for compensation. Over 100 medical malpractice lawsuits have been filed, with some patients winning hundreds of thousands of dollars against negligent doctors and clinics.
Filing a LASIK Malpractice Lawsuit
If you or someone you love has suffered an injury as a result of Lasik malpractice, call The Rothenberg Law Firm LLP at 1-800-624-8888 or submit an online questionnaire. The initial consultation is FREE of charge. If we agree to take on your case, we work on a contingency fee basis. This means that we collect fees for our services only if there is a monetary recovery of funds.
In most cases, a lawsuit must be filed before an upcoming expiration date, known as the Statute of Limitations. It is important, therefore, to call or contact us right away to ensure that you do not waive your right to possible compensation.