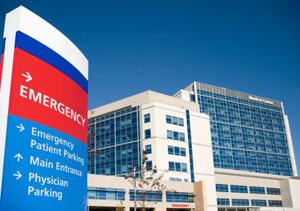 We have entered a new era in medical technologies. From electronic patient charts to robotic surgeries, hospitals have become more advanced in the types of care they provide. Despite a multitude of technological and scientific breakthroughs, patient safety levels have not shown vast improvement over the past decade, according to a recent article in Becker's Clinical Quality & Infection Control.  In fact, a separate story in the Washington Post came to a similar conclusion based upon a study in the New England Journal of Medicine.  The New England study compiled statistics from 10 North Carolina hospitals between 2002 and 2007 which indicated the fact that patient "harms remained common" in hospitals.  Furthermore, researchers have found "little evidence of widespread improvement" in the past decade.
Around the turn of the millennium, the Institute of Medicine issued a report entitled, "To Err is Human."  The report indicated that "at least 44,000 people, and perhaps as many as 98,000 people, die in hospitals each year as a result of medical errors that could have been prevented."
Moreover, the report indicated that U.S. hospitals were behind the curve in the early 2000's in terms of improving patient safety.  In addition to the seriousness of endangering human lives, preventable medical errors have a significant financial impact. Preventable medical errors resulted in expenses that totaled between $17 billion and $29 billion per year in hospitals nationwide at the time of the report's release.
The types of errors that the study identified included:
Diagnostic errors

:    These errors can involve an error or delay in diagnosis; the failure to employ specific tests; the use of outmoded tests; and/ or the failure to act on results of monitoring and/or testing.

Treatment errors:

     These errors can include an error in the performance of an operation, procedure or test; an error in administering treatment; an error in the dose or use of a drug; and/or an avoidable delay in treatment.

Preventive errors

:   These errors can include a failure to provide prophylactic treatments, or inadequate monitoring/follow-up related to treatment.
Other errors come from a failure of communication, equipment failure, or other system failure.
Nearly 13 years after the Institute of Medicine report, BMJ Quality and Safety ran an article indicating that surprisingly - patient safety has not improved significantly during the span of more than 10 years.
Challenges to Improving Patient Safety
Why is it that with so many advancements, patient safety remains static? The BMJ Quality and Safety study found several areas that represent challenges to improving patient safety in hospitals including: a) a low investment in patient safety—improving safety is not a priority; b) a short time period of intervention as compared with other hospital-based initiatives; c) a limited existing research base - we do not know as much as we could about patient safety methods; d) a limited workforce that studies and tests patient safety interventions; e) few effective patient safety interventions - the ones in use are not working; f) a low or inappropriate adoption of effective interventions; and g) an inadequate measure of the changes in patient safety over time.
The recent BMJ Quality and Safety Study highlights the above challenges and offers two viable solutions to these problems.  First, a targeted surveillance of patient safety interventions could encourage hospitals and health care facilities to improve their patient safety ratings.  Secondly, occasional reviews that specifically target the triggers for patient safety concerns could increase patient safety levels.
In addition to the solutions discussed in the BMJ study, the author of The Washington Post article discussed above stated that a possible solution likely requires new tracking methods to ensure that patients are safer, as well as hospital policies that make sure those tracking methods are used regularly. Most significantly, the article emphasized that "we need to build a culture in which patient safety is the priority for every nurse, doctor, administrator, aide, housekeeper, dietary worker, and hospital board member."
While it is essential for hospitals to continually monitor and improve safety measures, it is also important for patients to be aware that preventable errors occur regularly in hospitals. Patients or family members should always make sure to discuss treatment plans and the like with doctors, nurses or other medical staff and should pay attention to their medical care at all times.
In the unfortunate event that you or a loved one have been injured while in a hospital or at another health care facility, contact an experienced attorney today at The Rothenberg Law Firm LLP. With over 50 years of experience handling cases associated with medical errors, our team of attorneys will work hard to protect your rights.