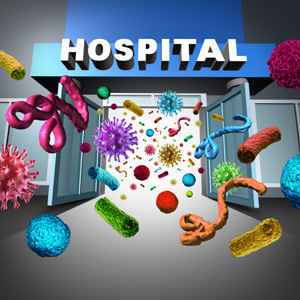 Rates of Hospital-Acquired Conditions Decline, But Not Enough
When you are admitted to a hospital, do you need to worry about hospital-acquired infections? According to a recent report from Fierce Healthcare, the Department of Health and Human Services has been working to reduce the number of hospital-acquired infections—also described as hospital-acquired conditions (HACs) or healthcare-associated infections (HAIs)—that seriously affect patient safety and well-being in hospital settings, but efforts to reduce these incidents have not done quite enough.
Over the course of the last four years, attempts to lessen the impact of HACs has resulted in "87,000 fewer patient deaths and nearly $20 billion in healthcare cost savings," according to the article. The Agency for Healthcare Research and Quality (AHRQ) reported those findings to the Department of Health and Human Services, and federal officials praised what appeared to be successful efforts to prevent certain patient harms. However, patient safety experts are not so sure that these numbers represent the kinds of declines we really need to see.
Experts cited in the above article emphasized that, "while hospitals have made progress, the preliminary 2014 data isn't as impressive as it may initially appear." In fact, the decline in hospital complications does not appear to have changed between 2013 and 2014. According to the director of AHRQ, "the improvements we saw from 2010 to 2013 were very likely the low-hanging fruit, the easy problems to solve." In other words, we have not yet taken steps to limit the more complicated—yet nonetheless preventable—hospital-acquired conditions that continue to affect patients throughout the country.
Getting the Facts About Hospital-Acquired Infections
The majority of deaths prevented between 2010 and 2014 were a result of avoided fatalities from pressure ulcers or adverse drug events, the article indicates. Other incident types also showed reductions, including:
Infections caused by "central lines inserted into veins";
Urinary catheters; and
Surgical complications.
While reductions in any kind of hospital-acquired infection are important for improving patient safety, it is important to understand the various kinds of infections and conditions that affect hospital patients. What do you need to know about hospital-acquired infections? According to a fact sheet from the Centers for Disease Control and Prevention (CDC), the following are among the most commonly reported hospital-acquired infections or hospital-acquired conditions:
Pneumonia;
Gastrointestinal illness;
Urinary tract infections;
Primary bloodstream infections; and
Surgical site infections from inpatient surgeries.
In 2011, nearly 722,000 infections were recorded. That means that 1 out of every 25 patients in US hospitals suffers from a hospital-acquired condition. While the recent article indicates that the total number of HACs has declined over the last five years, the report from the Department of Health and Human Services also makes clear that the number has not declined enough.
Hospitals can do more to prevent illnesses and infections among patients in their facilities. If you or someone you love received inpatient surgery at a hospital and later acquired an infection, it is important to discuss your case with an experienced medical malpractice lawyer to determine your rights.