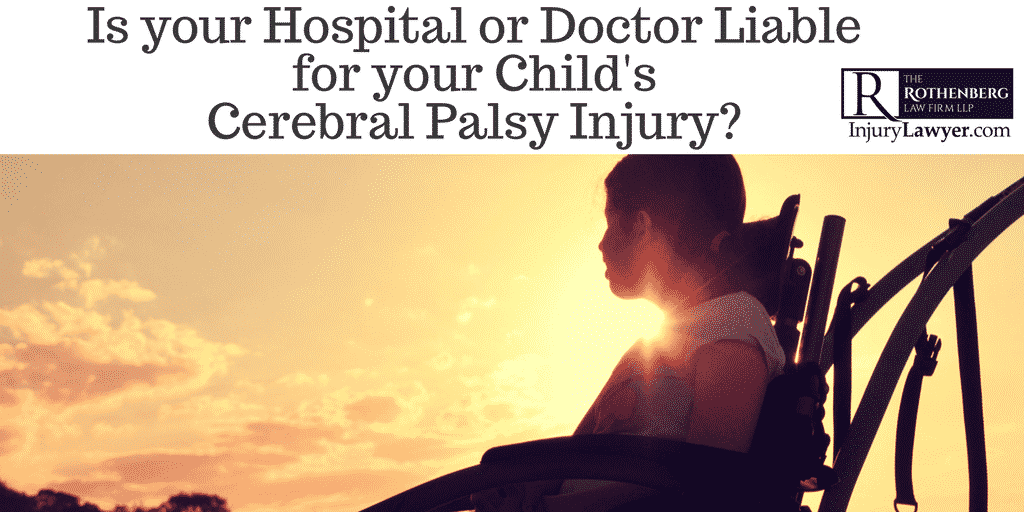 Cerebral palsy is an overarching term covering a group of disorders affecting a person's ability to move and control their muscles due to brain damage during pregnancy, birth, or shortly after birth. Often, children with cerebral palsy would otherwise have been born healthy if not for conditions and complications in pregnancy or birth. These include infections, seizures, lack of oxygen, and bleeding in the brain that sometimes go undiagnosed and results in childbirth injuries.
The Causes of Cerebral Palsy
Around 10,000 infants in the United States each year are diagnosed with cerebral palsy, and a further 1,200 to 1,500 pre-school aged children are found to have this condition each year. While all causes of this childbirth injury aren't known, doctors do know that there are many situations in which a child's cerebral palsy is due to medical malpractice.
Some of the causes medical malpractice or negligence include leaving the baby in the birth canal for too long, untreated seizures, improper use of forceps, and failure to detect a prolapsed umbilical cord.
Medical Malpractice Claims
Only someone well-versed in childbirth injuries and medical malpractice cases can determine if your hospital or doctor is responsible for your child's cerebral palsy injury. It is entirely possible that medical malpractice or negligence was the cause of your child's birth defects.  
Steps to Take for Childbirth Injury Claims
When making a claim that a hospital, obstetrician, or nurse behaved in such a way to cause your child's cerebral palsy, a birth injury lawyer will be able to guide you through the steps needed to pursue legal action which include the following:
Establishing duty of care: Demonstrating that the hospital, doctor, or nurse had a duty of care for you and your baby is usually proven by the fact that they agreed to provide prenatal care or help deliver your baby. In doing so, all medical staff automatically take on the responsibility to meet the accepted standards of medical care throughout your stay.
Proving breach of duty: There are two elements involved in proving a breach of duty and establishing negligence or medical malpractice. Firstly, it entails establishing the acceptable standard of care. This is usually provided through testimony from experts, qualified medical practitioners, or accepted case law. Secondly, it is imperative to prove that the doctor's or hospital's actions were below the established acceptable standard and therefore caused the childbirth injuries.
Establishing cause: Once the acceptable standard of care is established and proof that this standard was breached has been confirmed, the next phase is to demonstrate that the breach in the standard of care is the cause of your child's cerebral palsy.
Resulting damages: Proof that your child has cerebral palsy is the final step in validating your legal claim. For example, if your baby was left in the birth canal for too long, resulting in a lack of oxygen and the doctor failed to remedy this, causing your child to develop cerebral palsy, he or she may be found to be responsible for the resulting childbirth injuries.
You Are Not Alone
If you think that an incident of medical malpractice resulted in your child's cerebral palsy, it is important to discuss your situation with a birth injury attorney. To learn more about your rights and to discuss your situation with an experienced and caring attorney, contact us for a free consultation.