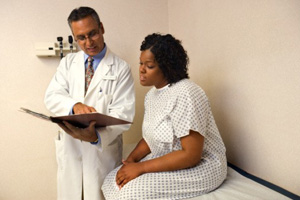 Laverne Wilkinson, a Brooklyn resident, was surprised to find out that she had cancer. Even more shocking than the news of the diagnosis is the fact that the discovery should have been made years ago. On February 2, 2010, Wilkinson entered the Kings County Hospital emergency room complaining of chest pains on her right side. The radiologist's report indicated something suspicious in her right lung, but a doctor released her anyway with "a clean bill of health." Now, according to the New York Daily News, "doctors have given Wilkinson, 41, a single mother of a severely disabled child, six months to live as the undetected lung cancer has now spread to both of her lungs, her brain, liver and spine." Medical experts believe that her chance of being cured from this cancer would have been as high as 75% had she been diagnosed and treated on time.
All Too Common
Wilkinson is among many patients who have been misdiagnosed by a medical professional. A recent study approved by the Institutional Review Board of New Jersey Medical School (NJ Medical School) has found that radiologists are susceptible to medical malpractice claims primarily because of errors in diagnosis. The study included a total of 8,401 radiologists in 47 states. Out of these radiologists, 2,624 stated on their credentialing application that they had been involved in at least one malpractice claim. The most common misdiagnosis was breast cancer, where early diagnosis is essential to receive the most effective treatment. Other misdiagnoses include, but are not limited to, non-vertebral fractures and spinal fractures.
Another study regarding patient safety incidents conducted by Health grades, concluded that the failure to diagnose and treat in a reasonable amount of time was the most common cause of patient safety incidents. Failure to diagnose and treat occurs at a rate of 155 per 1,000 hospitalized patients. In fact, misdiagnosis occurring in an emergency room or ICU can be as high as 40%. Common misdiagnoses are for conditions such as heart attack, stroke, pulmonary embolism, meningitis and appendicitis. Sadly, the misdiagnosis rate of appendicitis in children under 12 years old can be as high as 57% and even higher for infants.
Some experts believe that patients need to be more proactive and communicate more openly with their doctors about their symptoms, family history and feelings so that the doctor can reach the correct diagnosis. Others, such as those at the NJ Medical School, feel that the lack of communication plays a small role in misdiagnosis. Instead, many believe that the emergency nature of the situation requires medical professionals to act quickly, causing many mistakes to be made.
Be Proactive
One helpful suggestion for patients is to consult with more than one doctor about your symptoms. If you are in severe pain and your doctor has released you from medical care, then it will not hurt to consult with another physician or visit another hospital. Be sure to ask for a copy of your medical records and take these records with you when you are visiting a new doctor or a different hospital. With your written approval, a doctor can request this information from your previous medical care provider, but having the records with you can save you valuable time.
Another important tip is that if you continue to have pain in a particular part of your body, but you have been discharged from an emergency room facility, you should try to visit a specialist or at least a general practitioner. Emergency room doctors may have difficulty isolating your symptoms to make a correct diagnosis and are in a rush to treat a high number of patients in a short period of time. Making an appointment with a specialist can ensure that you receive the proper care and attention that you need. Do not leave your painful condition untreated, especially if your symptoms do not disappear or continue to get worse.
If you suspect that you have been harmed as the result of a misdiagnosis or a delayed diagnosis, be sure to get in touch with a medical malpractice lawyer to discuss your situation and learn more about your legal rights.