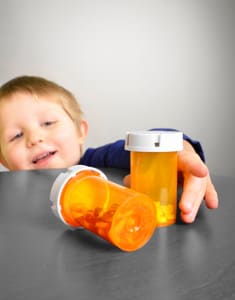 Too Many Parents Keep Children's Prescription Drugs, Risking Child Injury
If your child is prescribed a pain medication such as oxycodone or hydrocodone and there are leftover pills, what are you supposed to do with them in order to prevent serious child injuries or medication errors? According to a recent article in the Huffington Post, "nearly half of parents whose children were once prescribed pain medication kept the leftover pills at home." In some cases, the pills were later taken by the kids for whom they were prescribed or by other members of the household. Are these parents risking serious child injuries?
About one-third of all parents have a child who has been prescribed a pain medication at some point following an illness, an injury, or surgery. Approximately 60% of those pain medications are opioids, according to the article. Furthermore, around 50% of all parents with kids who have been prescribed such a pain medication end up with "leftovers."
Why does this happen? According to Dr. Matthew Davis, a professor of pediatrics and internal medicine cited in the article, "the amount of pain medication prescribed for children is frequently greater than the amount used, and too few parents recall clear direction from their provider about what to do with leftover medication." As such, nearly half of all the parents who find themselves with leftover pills actually keep them at home, and many admit to using them at a later date.
When medication is not used properly, people can sustain serious injuries. According to the article, a majority of parents who received clear instructions for disposing of leftover pills from their child's healthcare provider "were more likely to dispose of the medications properly" by either throwing them in the garbage or returning them to the pharmacy or doctor's office. Yet despite the fact that clear instructions can prevent medication misuse among kids, only about one-third of all parents cited in the study actually received these instructions.
Taking Steps to Avoid Medication Misuse 
What can patients do to help prevent medication mistakes and prescription drug misuse? According to a fact sheet from the Mayo Clinic, clear communication with your healthcare provider is essential. The fact sheet recommends asking all necessary questions to ensure that you know how and when to take medications, and what you need to know about avoiding injuries. Moreover, for patients who are prescribed painkillers, it is important to understand the effects and interactions of the drug.  It is also essential to know how to properly dispose of any extra pills. Keep everyone in your household safe- think carefully before taking or giving any medication.