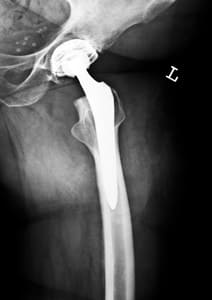 Defective Hip Replacement Study
Over the past fifteen years, patients have reported injuries from metal-on-metal ("MOM") hip implants. Now, a recent study published in The Journal of Bone & Joint Surgery contends that patients who have received these defective medical devices are at greater risk of suffering injuries from implant failure or metal poisoning.
The study took a close look at patients who received different types of metal-on-metal hip implants and metal-on-polythene hip implants. The researchers studied more than 100 patients who had received these medical devices and tested them for levels of metal ions in their blood. The patients tested were analyzed over a five-year period after receiving an implant. At various points in time during the study, the researchers tested the patients' blood for signs of metal poisoning, or metallosis. Analysis of the recipients' blood included tests on erythrocytes, serum, and whole blood.
What did the researchers conclude?
According to the results of the study, "cobalt and chromium ion levels in all blood sample types at the five-year time point were significantly lower in the metal-on-polyethylene group than in each of the two metal-on-metal groups." Indeed, the levels of metal ions present in the blood of patients with MOM implants rose across the five-year period of the study. In certain recipients of MOM implants, blood tests showed "significant increases from two to five years" in terms of metal ion levels.
In addition to the sheer dangers of metal-on-metal implants, the study also suggested that the size of the medical device matters. Patients who received 36mm metal-on-metal devices appeared to be at greater risk of metallosis and other complications than recipients of 28mm metal-on-metal hip implants.
What is Metallosis?
Metallosis has recently been associated with defective joint implants, particularly metal-on-metal devices. Typically, metal-on-metal devices are used as knee replacement implants and hip replacement implants. Metal debris can flake or chip from the implants, moving into an implant recipient's blood and soft tissue. When chromium or cobalt joint replacement parts produce wear, they can produce friction that results in metal pieces entering the body.
Symptoms of metallosis can vary but often include at least one of the following:
Pain around the implant;
Pain in the groin with a hip implant;
Instability while walking or standing; and
Noises that come from the knee or hip.
It is important to remember that most artificial joints will make noises, such as clicking and squeaking. But in some cases, these sounds can indicate that you may have been the recipient of a defective medical device. In particular, when metal-on-metal implants begin to deteriorate, they tend to grow increasingly noisy. As such, any changes in sound from your joint replacement are important to pay attention to.
Most Common Defective Metal on Metal Hip Implants
What about treatment? Unfortunately, there is no definitive treatment for metallosis. In other words, patients who have suffered injuries from metal-on-metal joint replacements will require surgery. If you or a loved one has been injured by a joint implant, you should contact an experienced defective medical product lawyer to learn more about your rights.