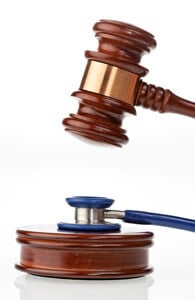 Fewer Medical Malpractice Lawsuits Means Victims Go Uncompensated
Medical malpractice laws exist so that victims of negligence can seek financial compensation for their injuries.  When a healthcare professional behaves negligently, the law understands that victims can suffer serious personal injuries and should be able to receive financial compensation for these damages.  However, victims of medical negligence in Philadelphia, Pennsylvania—and throughout the entire country—may be going uncompensated, according to a recent article in Philly.com.
Litigation surrounding medical negligence claims has declined in recent years. The number of lawsuits filed in the Philadelphia area speaks to this issue.  In Pennsylvania, medical malpractice claims have declined by more than 43 percent during the last decade. In terms of the total number of lawsuits filed, more than 2,700 lawsuits were filed each year in 2000, 2001, and 2002. However, by 2013, Pennsylvania medical malpractice claims had dropped to just over 1,500.  The numbers in Philadelphia are particularly startling, where there has been a nearly 69 percent drop in claims.  Patients filed more than 1,200 medical negligence suits each year from 2000-2002, but only 382 claims were filed in 2013.  Pennsylvania—and the Philadelphia area specifically—is just one example of a trend that is not confined to one state. Nationwide, medical malpractice claims have dropped by about 57 percent in the last 20 years.
Has the number of lawsuits waned because healthcare has improved and fewer medical errors result in patient injuries?  Patient safety advocates explain that this is hardly the case.  Rather, as investigators point out, the laws surrounding medical malpractice claims may be deterring "roughly half of the lawsuits."  Indeed, many injured patients may not be receiving the compensation they deserve.
Are Damage Caps Deterring Medical Malpractice Lawsuits?
Some commentators believe that medical malpractice damage caps are deterring injured patients from filing claims.  How do these damage caps work?
Each state has its own laws governing medical negligence lawsuits, and 31 U.S. states currently have damage caps for certain compensatory damages.  When a patient seeks compensation in court, he or she can be eligible for two different kinds of compensatory damages: economic damages and non-economic damages.  Economic damages are those that repay the victim for specific expenses, such as hospital bills related to the injury or loss of income when the injury prevents the victim from returning to work.  Economic damages are clearly defined and a jury can set a precise dollar amount for these damages.  Non-economic damages are more complicated, and they require subjective decisions from the jury.  These kinds of damages are supposed to repay victims for the "costs" of injuries such as pain and suffering or the loss of enjoyment of life.
As many of us can imagine, it is difficult to agree on a dollar figure associated with pain and suffering, loss of enjoyment of life, or permanent disfigurement. As such, non-economic compensatory damages have proven to be quite contentious, and many states have placed caps on the amount that a jury can award.  At times, a victim of medical negligence may be deterred from filing a claim once he or she understands that there may be a cap on the amount of damages he or she can receive.
While Pennsylvania does not have a specific cap on damages, its laws have restricted certain aspects of bringing a medical malpractice case.  Specifically, Pennsylvania law limits the amount a medical malpractice victim can receive for lost future wages.  In other words, damage caps and other limitations on a victim's ability to recover may be resulting in fewer negligence victims filing claims at all.
Contact a Dedicated Medical Malpractice Attorney
Do not let medical malpractice caps deter you from bringing a claim. If you have been injured because of a healthcare professional's negligence, it is important to make sure that you review your rightf to see if you are eligible for financial compensation. The experienced medical malpractice lawyers at the Rothenberg Law Firm can help you determine your rights.