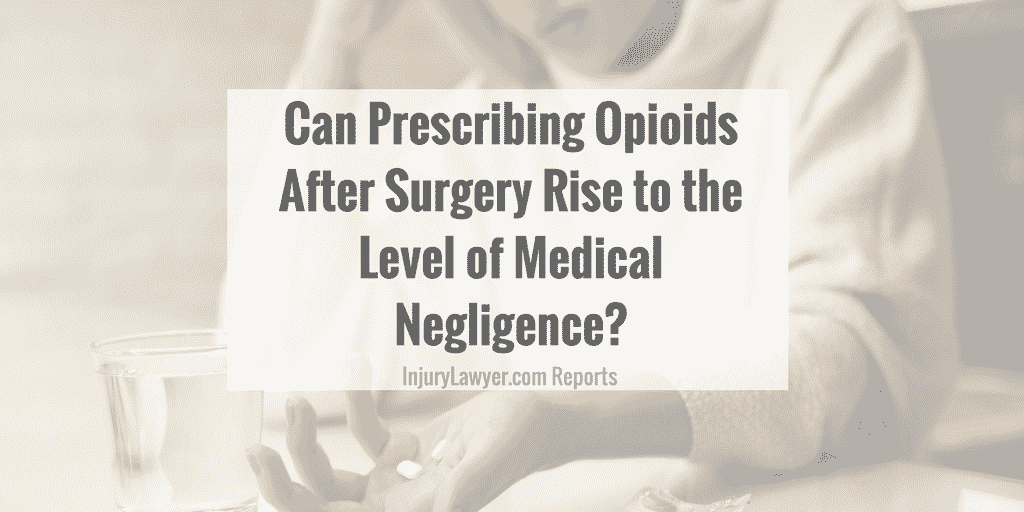 Can Prescribing Opioids After Surgery Rise to the Level of Medical Negligence?
Many people know that there is an opioid epidemic in the country and that thousands are dying as a result of opioid overdoses. Can those deaths ever be a result of medical malpractice? According to a recent article from National Public Radio, some commentators are suggesting that healthcare providers should be liable, at least in part, for patients' opioid addictions when those addictions result from post-surgery prescriptions.
The article specifically discusses patients who go into the hospital for surgery, are prescribed opioids, and then ask numerous follow-up questions to ensure that they are taking the medication properly. For instance, one patient discussed in the article underwent a lengthy back surgery, and afterward, she was prescribed Dilaudid, which is one type of opioid. Her doctor gave her "instructions to take two pills every four hours as needed," and the patient took nearly the maximum dose for a full two weeks. She then contacted her healthcare provider to ask questions about the addictive properties of the drug, such as, "How do I taper off this?" According to the article, "she never got a clear answer."
This patient, like many others, did not receive adequate information about the drug she was taking and the risks of addiction associated with it. As a result, the patient discussed above looked online for information to gradually stop taking the opioid, which involved reducing the amount by a certain number of milligrams over the following days and weeks. By the time she had a follow-up visit with her surgeon, she was suffering acute withdrawal symptoms.
One of the major problems that this story highlights is that this patient's experience is not a rarity. According to Dr. Andrew Kolodyn, who serves as the director of Physicians for Responsible Opioid Prescribing and is a co-director of Brandeis University's Opioid Policy Research Collaborative, "we have many clinicians prescribing opioids without any understanding of opioid withdrawal systems." Some commentators contend that when doctors allow this kind of addiction to occur through the practices discussed above, it constitutes a medical error, and those healthcare providers may be liable for medical negligence.
Getting the Facts About Types of Medical Malpractice
Generally speaking, medication errors, diagnosis errors and surgical errors, are among the most frequent and potentially fatal medical malpractice situations. Sadly, over-prescribing opioids and the resultant addictions associated with over-prescribing is becoming more and more frequent. If you or someone you love suffered injuries as a result of a medication error or the like, contact a medical malpractice lawyer to determine your rights.