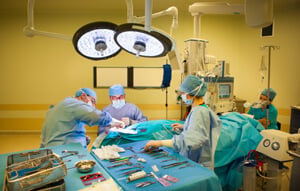 When you go into the hospital for surgery, can you be sure that your doctor will not make a surgical mistake while you are under anesthesia? Even if you are not physically injured by medical malpractice, can you be sure that you will be treated with respect during your surgical procedure? According to a recent article in the Washington Post, "a movement is afoot to put cameras in operating rooms around the country, after a woman died from an anesthesia overdose, in order to both capture alleged malpractice and deter bad behavior during surgery."
Recent attention to mistakes and negative behavior in operating rooms has led advocates to push for video recordings of surgical procedures. Some patients suffer humiliation during surgeries, such as one patient in Northern Virginia who "felt insulted and humiliated after he listened to an audio recording of two doctors insulting him during his colonoscopy." Indeed, a Fairfax County Circuit Court determined that the victim had a legitimate defamation case and ordered one of the physicians to pay $500,000 in damages.
In Wisconsin, the family of Julie Ayer Rubenzer is pushing for a law that would "offer surgical patients the option to have their surgical procedures videotaped." The proposed legislation is named after the victim, who died from a Propofol overdose in 2003. Rubenzer's brother, Wade Ayer, emphasizes that installing audio and video recorders in operating rooms "would help aggrieved patients and their families make cases for malpractice." If the bill passes, it will become the first law of its kind in the U.S. As you might expect, hospital and medical associations are vehemently opposed to such a law.
Yet lawmakers who have sponsored the bill emphasize its significance as a deterrent for surgeons who might not take the care they should when they have a patient in the operating room. From preventing slander to encouraging surgeons to work with particular care (given that they are being videotaped), advocates of the law believe that it could help prevent medical negligence in the future.
Learning More About Surgical Mistakes
Surgical mistakes are just one type of medical error. Unlike general medical mistakes that can include diagnostic or prescription errors, surgical mistakes typically happen when a patient is in an operating room undergoing a surgical procedure. In all, around 4,000 preventable surgical errors occur every year in operating rooms across the country, according to a report from WebMD.
What are some of the most common surgical mistakes? WebMD lists the following as the most likely medical errors to occur while you are in the operating room:
Foreign object, such as a sponge or towel, left inside the body;
Wrong procedure performed on a patient; and
Operation on the wrong body side.
How often do these events take place?  Researchers looked at the weekly rate of these surgical mistakes and determined the following:
When it comes to foreign objects being left inside a patient's body, these mistakes occur nearly 40 times per week across the country.
Surgeons will perform the wrong procedure on a patient 20 times each week.
In the operating room, patients will have the wrong body site operated upon 20 times per week.
While many surgeries proceed without mistakes, some mistakes do happen and may have been preventable. Therefore, if you or a loved one suffered a serious injury while undergoing surgery it is important to speak with an experienced medical malpractice lawyer to determine your rights.