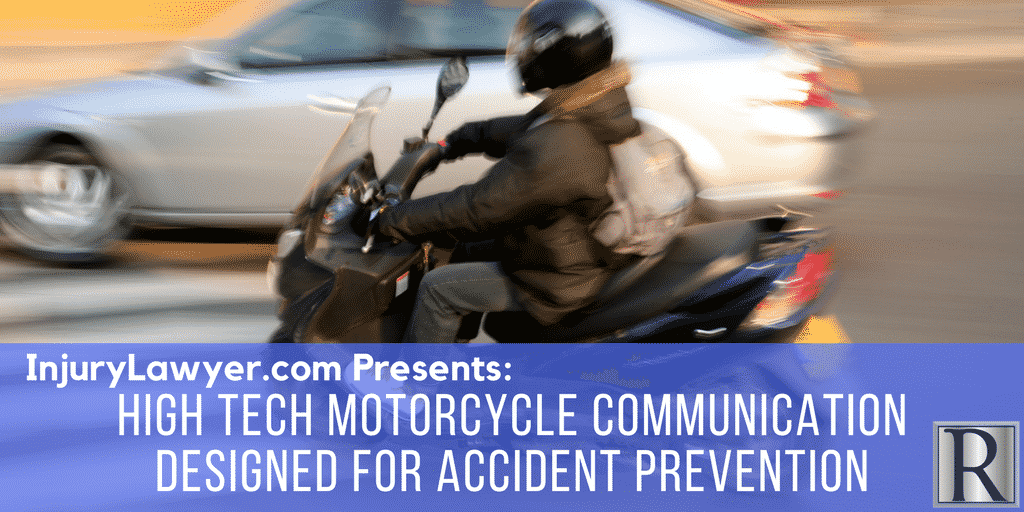 Technology Allowing Motorcycles to "Talk" to Cars Could Help with Accident Avoidance
Many motorcyclists know that it can be difficult for motorists to see bikers when they are in blind spots, and that motorcyclists are at greater risk of sustaining serious or fatal injuries in a traffic collision than are automobile passengers. But is there a new way to prevent motorcycle accidents that employ communication technology? According to a recent article in Wired Magazine, vehicle-to-vehicle communication may be possible for motorcycles and automobiles. The technology is designed to "minimize injuries and deaths by keeping bikes and cars out of each other's ways."
How does this technology work? Autotalks, an Israeli company, has partnered with Bosch "to develop and test a Wi-Fi-based communication system that can track vehicles in the vicinity—regardless of whether they are in view—and alert the rider to an imminent collision, possibly providing enough time to avert a crash." In other words, the technology will allow motorcycles and automobiles to recognize the presence of the other, and in the event that an automobile is too close to a motorcycle or may crash into a motorcyclist, the technology is aimed at alerting the motorcyclist in time to get out of the way.
The technology builds on vehicle-to-vehicle (V2V) communication technology that allows motorcycles to communicate. According to the article, this new tech is called B2V, which stands for bike-to-vehicle communication. In addition to being able to identify other vehicles in the proximity, B2V is also being developed so that motorcycles and automobiles can exchange information about "location, speed, heading, braking mode," and other relevant details. Tests for the new technology will begin on Ducati motorcycles soon.
However, as the article underscores, this technology can only be beneficial if every motorcycle and automobile carry it. To be clear, the vehicles cannot communicate if the technology is not present in each of them. Yet the National Highway Transportation Safety Administration (NHTSA), Wired Magazine reports, "is considering a rule requiring all new vehicles to carry V2V communications." If such a rule were to take effect, the new B2V technology could become a reality when it comes to motorcycle accident avoidance.
Safety Tips for Preventing Motorcycle and Automobile Accidents
Technology may help to prevent motorcycle and automobile collisions in the future. For the time being, however, motorcyclists and motorists should heed safety tips for accident prevention. A safety sheet from Consumer Reports provides the following tips for avoiding crashes:
Avoid driving after drinking any alcohol. While many drivers do not realize it, "buzzed" driving is extremely dangerous and often leads to car accidents. Even one drink can impair your judgment and slow your reaction time. Many motorcycle accidents involve alcohol.

Do not get distracted behind the wheel or on your motorcycle. In other words, avoiding talking on a cell phone or texting while driving, but also consider the risks of other types of distractions, such as talking to other passengers or eating while you are on the road.

Obey the speed limit. Speeding even a few miles per hour over the limit can increase your risk of an accident. The Insurance Institute for Highway Safety (IIHS) cites excessive speed as a factor in nearly one-third of all fatal traffic accidents.

Stay alert when you are in a parking lot. For motorcyclists, a serious injury can occur even at low speeds.

Choose a vehicle with safety technology and advanced safety systems. While this might not always be possible for motorcyclists, it is important to consider when purchasing a vehicle.
If you sustained injuries in a recent crash, contact a motorcycle accident lawyer to determine your rights.