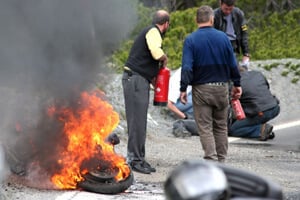 Are motorcyclists at a greater risk of a dangerous accident than other motor vehicle drivers?
In a motorcycle accident involving other cars and trucks, motorcycle riders often sustain severe and life-threatening injuries. A recent article in the New Jersey Herald reported that a festive New Year's Day motorcycle ride ended with a major crash and serious injuries. The accident occurred in Ogdensburg, New Jersey during an annual 30-mile motorcycle ride fundraiser for a local hospice center.
How did this motorcycle crash happen? Police reports indicated that the driver of a van "lost control and drove into a group of motorcyclists parked in a formation and preparing to leave the parking lot." Eyewitnesses described the harrowing aftermath of the crash, depicting a scene with "crushed motorcycles and riders lying on the ground." In total, seven of the approximately 150 motorcycles that participated in the charity ride, were struck by the van.
Emergency medical responders extricated several riders from the scene of the crash, one of the victims was flown to the Morristown Medical Center, and two others were transported by ambulance.  According to one of the motorcyclists at the event, being hit by a car is a fear all motorcyclists live with everyday. "That concern lives in our minds," he told the New Jersey Herald.
Motorcycle Accident Statistics
If motorcyclists live in fear of being struck by a motor vehicle, are they actually safe to ride on the highways? According to statistics from the U.S. Department of Transportation and the National Highway Traffic Safety Administration (NHTSA), motorcycle riders are "35 times more likely to experience a deadly accident on the road than those in passenger cars." It becomes even more disconcerting when we consider the fact that motorcycle accidents often result in injuries more severe than those sustained by passenger car accidents.  A motorcycle can easily be crushed underneath a passenger car.  Indeed, according to the Insurance Institute for Highway Safety, more than 50 percent of motorcycle rider fatalities involve accidents with a larger motor vehicle.
How can motorcycle riders stay safe on the roads? A key safety issue is helmet use. According to NHTSA, head injuries are the leading cause of motorcycle accident fatalities. Wearing a helmet reduces the chances of a fatal accident by nearly 40 percent. In 2008 alone, NHTSA reported that more than 1,800 motorcyclists' lives were saved because they were wearing helmets during a crash.
The State of New Jersey requires that all motorcycle drivers and passengers wear a helmet at all times. Not all states require helmet use - but they are extremely important for surviving a motorcycle accident. Other safety precautions should be considered as well. The New Jersey Department of Law and Public Safety recommends wearing the following safety gear in addition to wearing a helmet:
Eye protection;
Abrasion-resistant jacket and pants;
Sturdy footwear; and
Full-fingered gloves.
It is also important to have motorcycle training. According to the New Jersey Department of Law and Public Safety, "90 percent of the riders who are involved in crashes have no formal training." Unfortunately, motorcycle accidents occur on a daily basis.  It is important to recognize the dangers of riding a motorcycle, prepare yourself by taking a training course, and to especially remember to always wear your helmet and other recommended safety gear.