"Driving Under the Influence" (DUI) and "Driving While Intoxicated" (DWI), are the terms for alcohol-related driving behavior, responsible for nearly 1/3 of all traffic deaths in the United States. Frequently, these impaired drivers are repeat offenders according to the National Department of Transportation.  Their habitual destructive and devastating behavior inflicts a heavy burden of death and/or injury to not only themselves, but to innocent victims as well. DUI Accident Lawyers fight to make sure these innocent victims are compensated for the selfish and reckless act of DUI and DWI, drunk driver, offenders.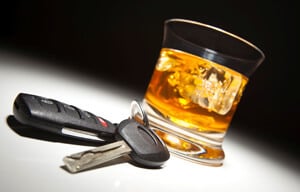 According to Mothers Against Drunk Driving (MADD), over 1.4 million drivers are arrested annually for driving under the influence. MADD, The organization dedicated to finding solutions to prevent motor vehicle accidents highlights the fact that drunk driving is still the #1 cause of death on our roadways.
MADD'S tragic statistics show that in 2018 alone, over 10,511 people were killed as a result of wrongful death drunk driving auto accidents. And a staggering 300,000 women, men and children - our loved ones, family members - were injured due to motor vehicle drunk driving.   
The organization's stats further show that 30-35% of all traffic deaths can be connected to a driver, culpable of criminal charges,  who had drugs or alcohol with unacceptable blood alcohol content in their system when behind the wheel.
MADD points out that these figures mean that every 2 minutes someone is injured in an auto accident. Every 51 minutes drunk driving crashes cause a death! And 2 out of every 3rd person will be impacted in some way by drunk driving. 
Sadly, the problem is habitual, as about 1/3 of all DUI arrests are repeat offenders. In addition, this behavior is strongly connected to age.  Those between 21-25 years old commit 24% of the incidents and the rate declines steadily for each age group older than 25 according to the Substance Abuse and Mental Health Services Administration.
The Law in a DUI Accident
Anyone who causes an accident while driving under the influence of alcohol or another substance is considered negligent and may face criminal charges. Sadly, this is of little comfort to those who endure wrongful death, brain injury and other serious injury or loss of a loved one in alcohol-related accidents. Serious compensation, while owed to these victims, can  never make up for the physical and emotional costs endured. But victims deserve all of the compensation including punitive damages attainable under the law.  A driver convicted of DUI certainly has the liability and responsibility to pay for all damages, but that driver actually may not be the only person considered negligent or liable.
Third Party Liability in a DUI Accident
Providing alcohol may also serve as grounds to be considered negligent and liable for damages. Many states have laws that impose liability on bars, clubs, restaurants, or hotels which supply liquor improperly. In such cases, a business is expected to exercise due care and not to serve anyone who is obviously drunk. 
The laws pinning responsibility for drunk driving wrongful deaths and serious injuries  on those serving the alcohol are called Dram Shop Laws or Dram Shop Acts. These laws may vary from state to state. In some states Dram Shop laws can even find the wide variety of "social hosts" serving alcohol to be 100% liable  for personal injury cases. In fact all 50 states have laws prohibiting serving alcohol to minors.
Even someone outside of such a business may incur liability for supplying liquor to a driver who subsequently has an accident that injured or killed another. The host of a party may be liable in some states if he or she continues to allow a guest to imbibe after it is obvious the guest is intoxicated.
Some questions asked by your Drunk Driving Accident Lawyer
What was the blood alcohol level of the defendant party? 

Where was the defendant drinking before the tragic auto accident? 

Was the alcohol served by a third party such as a social host of drinking establishment?

Does the  defendant have a medical condition that impacts judgement when combined with even a low level of alcohol?

Does the defendant have a low tolerance for drinking alcohol?

Can it be proved that the defendant arrived or left the place of drinking in a motor vehicle? 
Seeking Legal Aid from a DUI Accident Attorney
If you or someone you know has suffered an injury as a result of a DUI/DWI accident, contact a Drunk Driving  Accident Lawyer at The Rothenberg Law Firm LLP at 1-800-624-8888 or submit an InjuryLawyer.com online free legal advice case evaluation. The initial consultation is FREE of charge. If we agree to handle your case, there are no legal fees unless we are successful in getting you money.
The DUI Accident Attorneys at the Rothenberg Law Firm are committed to help you get as much monetary compensation as possible.
Damages for injuries one suffers in a drunk driving accident or dram shop claim may include compensation for:
pain and suffering;

medical bills incurred, including but not limited to the costs of emergency care treatment, any surgery performed, hospitalization, medication, physical therapy and rehabilitation;

lost wages from work, including but not limited to payroll wages and benefits that might reasonably have been earned by you if the injuries had not caused disability and ability not to go to work as normal; and

costs for any damaged or destroyed property such as your car.

Some lawsuits must be filed before an applicable expiration date, known as the Statute of Limitations. It is critical to please call or contact us right away so that you do not lose your rights to possible monetary and or other compensation.