Sport Utility Vehicles (SUV) are some of the most popular transportation machines on the road today.  However, many underestimate the risks of these vehicles; many misconceptions remain.  For example, according to the federal Consumer Protection Safety Commission (CPSC), about 40% of Americans admit to believing that SUVs are safer than regular cars.  Yet, they fail to consider that SUVs rollover far more often than other vehicles.  Rollovers occurred in about 37% of SUV crashes compared with only 15% of passenger car crashes according to the National Traffics Safety Administration.
The consequences of the rollover crashes are significant.  The Insurance Information Institute recently released information showing that SUVs had the highest occupant fatality rate of any vehicle in rollover crashes.
Driver errors are obviously one cause of these crashes.  In addition, there are significant design flaws in certain SUVs, such as Ford Explorer and Bronco Sport Utility Vehicles.  Originally designed and marketed for off road use, certain SUVs were manufactured with various flaws. These flaws include high suspension, high centers of gravity, and narrow wheelbases.  The above flaws combined with top heavy designs make SUVs particularly susceptible to rollovers when a driver is forced to make a foreseeable evasive maneuver at highway speed.
As a result, SUVs are often the most dangerous vehicles on our streets today.  In fact, more than 10,000 people are killed in SUV accidents each year. 
Failure to Integrate Adequate Safety Measures
Despite the significant likelihood of a rollover accident, many SUV manufacturers have failed to integrate adequate safety measures into their vehicles.  The lack of a roll bar and defective airbags in many models increases the probability of death or serious injury during a rollover accident.  In many such tragedies, passengers are thrown from the vehicle due to defective seat belts. In other cases roofs cave-in due to a lack of overall crashworthiness.
These defects increase the likelihood of catastrophic injury and death in an SUV accident.  The civil law often provides avenues for those hurt as a result of these defects to recover compensation and hold the manufacturers accountable for their conduct.
Getting Legal Help

—

SUV Accident Attorney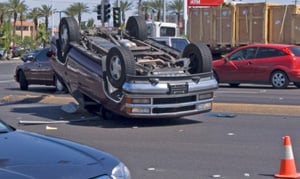 The Rothenberg Law Firm LLP has experienced SUV and 4x4 rollover accident attorneys.  We are dedicated to helping people who have been injured and whose loved ones have been killed in SUV rollover accidents.  We know what it takes to establish the liability of the manufacturer.  We will fight to get you the compensation you deserve for your injury or loss.  Our legal team handles numerous lawsuits against Ford Motor Company and other automobile manufacturers as a result of injuries caused by rollovers.
When you select an attorney to handle a lawsuit as a result of injuries sustained in a catastrophic SUV accident, you must choose a law firm that has the competence, ability, and stability to go up against the deep-pocketed and powerful automobile manufacturers.  We have the resources and legal expertise required to stand up for victims of these horrendous rollover accidents.
If you or a loved one has suffered an injury in a SUV or 4x4 rollover accident, call The Rothenberg Law Firm LLP at 1-800-624-8888 or submit an online InjuryLawyer.com free case evaluation.  The initial consultation is FREE of charge, and if we agree to handle your case, we will work on a contingency fee basis, which means we get paid for our services only if there is a monetary recovery of funds.  In many instances, a lawsuit must be filed before an applicable expiration date, known as a Statute of Limitations.  Therefore, please call right away to ensure that you do not waive your right to possible compensation.