Pileup accidents are incredibly scary to go through. Drivers only have a few seconds to prevent vehicle collisions and in poor weather or unsafe driving conditions, they may be unable to quickly avoid the car wreck before them.
Roads become incredibly dangerous after a multi-car crash. The police might close them to allow for safe cleanup and evacuations. Drivers, passengers, and witnesses can have different takes on what happened. The emotional and physical effects of the crash can be devastating.
After it's over, car accident victims might be unaware of what legal options are available.
That's where our pileup accident injury lawyers can help. If you or a loved one was involved in a pileup car accident, contact the Rothenberg Law Firm LLP today. Our personal injury lawyers offer a no fee case evaluation for car accident victims. We can help you file a personal injury claim and take the steps necessary to receive the compensation you deserve.
What are Multiple Impact or Pileup Car Accidents?
Car wrecks can involve more than one point of impact. Pileups are the most common multiple impact vehicle crash. In pileups, there are multiple impacts from motorists that lead to property damage and may lead to serious injuries.
Unlike single car crashes, multiple impact car crashes are chain reaction events. The first auto accident can cause other drivers to swerve, rear-end other vehicles, enter intersections or stop suddenly. Some of the most common types of multiple impact accidents include:
rear-end collisions
intersection collisions
highway pile-ups
lane-departure collisions
While most crashes are preventable, sometimes they are unavoidable. Poor weather or road conditions are two common causes of pileup car accident cases.
Why Pileup Accidents Happen
Pileups often take place on heavily-traveled roads with fast-moving traffic. Some common causes of pileups include: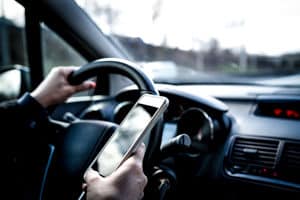 Common Scenarios for Multiple-Vehicle Accidents
The key to building a successful personal injury case  starts with figuring out the root cause of a multi-car pileup. In many pile-up collisions, several of these causes happen at once. It's this combination of factors that makes finding the party at fault so difficult.
What to Do if You're In a Pileup Accident
If you have been involved in a pileup, there are several steps you can take to protect yourself and gather evidence:
Call 911. Don't assume anyone else involved in the accident has called first responders to the scene of the accident.
If possible, make sure anyone injured in the accident receives medical attention. If you are injured, seek medical treatment. Your medical records will be helpful in assessing damages and getting the medical help you need should be your first priority.
Make sure to move to the side of the road and away from danger. If you cannot safely exit your vehicle, stay inside with your seatbelt on.

It's important that you stay at the scene of the accident. You'll be approached by law enforcement. They will take your statement along with anyone else who was involved or witnessed the accident and file a police report. Please be honest with the police about what happened, but do not admit to any fault because you may not be aware of what really caused the accident.
Next, try to collect as much information that can help your personal injury case if possible. Only if you are physically able and in a safe place on the road, try to gather other drivers' insurance information. Take photos or videos of the accident. Write down any details related to the accident that you can remember. These details can help an accident reconstruction expert reconstruct the accident scene if need be.

Finally, consider seeking legal representation. An experienced car accident lawyer can help you navigate the complex nature of a multi-car pileup accident.
How Information is Collected After a Pileup Auto Accident
Unlike single car crashes, a pileup accident requires a more expansive investigation. Investigators must collect information from multiple drivers, passengers, and other witnesses to piece together what happened and determine who's at fault.
Because these accidents are more likely to result in severe injuries, there are often more police involved. Police are typically forced to close down major highways to ensure everyone's safety as they attempt to gather any available evidence related to the accident. Each one of the drivers involved may try to blame the other drivers.
If you work with a personal injury attorney, they may hire accident reconstruction experts to investigate the cause of the accident. Any details you gather, in addition to the police report, will be used to recreate the event to determine exactly what happened during the accident.
Who's at Fault in Multiple-Vehicle Accidents?
Determining who's the at-fault driver in a pileup can be tricky. In chain reaction accidents, there may be more than one driver at fault. It's also possible that the root cause of the accident may be weather or road related.
Different states have different laws to determine who's at fault. For example, New York uses a pure comparative negligence fault model.
Most states use some variation of the comparative negligence approach. Certain states, however, use what's known as a contributory negligence fault model. It's important to have an experienced personal injury attorney on your side to fight for your rights in a multi-vehicle accident.
Speed, road conditions, and the distance between cars are a few of the factors that help determine fault. Drivers who fail to leave a safe space between their car and the car in front of them are typically looked at as being partially responsible.
In a multi-vehicle pileup, any driver in theory can be the at-fault party. And sometimes after an investigation, it is determined that multiple drivers are at fault or perhaps no drivers are found responsible for the accident, rather the city, state, vehicle manufacturer, etc. may have been the at-fault party.
Who is liable for damages will be determined on a case-by-case basis. Having a lawyer on your side will make all of the difference for your case.
How Insurance Coverage Works when Many Vehicles are Involved
A multi-car pileup may result in a battle between insurance companies. Pileups present challenging situations, especially for insurance adjusters. It may take weeks to determine fault and who should pay what. Therefore, it's recommended that you have a skilled lawyer to help you file a pileup car accident claim.
New York is a "No-Fault" car insurance state. This means accident victims are general reimbursed for medical expenses and lost wages by their own insurance company, regardless of who was at fault. This is especially helpful if the other drivers involved are uninsured. However, these insurance policies usually cover only up to $50,000 in damages.
You have 30 days to file a No-Fault claim under your own car insurance policy to receive insurance benefits. This insurance claim must be filed in order to recover any damages. This includes any money for your medical expenses and limited types of economic losses.
If, however, you sustained serious injuries from your accident you may be entitled to additional compensation. This is where having an experienced multi-car pileup accident injury lawyer is imperative. Our legal team is familiar with many types of motor vehicle accidents and can help you see if you have a case.
Why Do I Need a Car Accident Lawyer for a Pileup Accident?
A car accident attorney will offer a free consultation to help you see if you have a valid case. They can also help you if your insurance company denies benefits and they will help you take on the insurance company of the party or parties that may have been responsible for your injuries. If you are struggling with increased medical bills and the emotional impact of your accident, you shouldn't have to worry about dealing with insurance companies and the legal process. An experienced multi-car accident lawyer can provide you the emotional support you need and will take care of all of the legal aspects needed to handle a car accident case.
Filing a Pileup Car Accident Claim
There are several factors in filing a pileup car accident claim that may not exist for regular accidents. Some of these factors include:
More thorough investigations
More eyewitnesses, which can lead to convincing evidence with consistent testimonies
Involvement from multiple insurance companies may increase the potential for more financial compensation
Your car accident injuries may be classified as serious injuries. If so, you are entitled to fair compensation that goes beyond what your insurance company will pay out with respect to medical bills and lost wages. You can sue the party responsible for your accident. Working with a car accident lawyer ensures your rights are protected and that you file all necessary claims on time.
No-fault accident claims must be filed within 30 days in New York. Personal injury claims have a three-year statute of limitations from the date of your accident. If you are unsure of how to proceed with any claims, please contact one of our skilled pileup car accident injury lawyers at 1-800-624-8888 today.
Potential Damages You Can Recover
Unfortunately, when multiple vehicles are involved, the severity and extent of damages tend to be significantly greater. And the severity of your injuries is a significant factor in determining the value of your accident claim.
Multiple-vehicle crashes are unique in that you may be struck more than once. If you are rear-ended at a high speed, you can hit the vehicle in front of you and suffer the impact from both the front and rear.
Additionally, pileups can be a catalyst for fire, causing greater potential threats. Motorists may also be at risk of being trapped within a vehicle if the doors are unable to open or injuries are too severe to exit without help.
You could be entitled to compensation for your economic damages, such as lost wages and medical bills. You are also entitled to fair compensation for any emotional pain and suffering you endured. Even in cases where the injuries are not fatal or severe, you may deal with more mild injuries with the potential to cause great physical, mental, and financial distress.
Common Car Accident Injuries Caused by Multi-vehicle Car Crashes
Car accident injuries caused by pileups vary. Some people may sustain minor injuries, while others sustain catastrophic injuries. Some of these injuries include: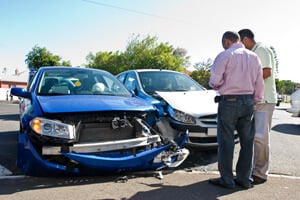 Fractures and broken bones
Neck injuries, including whiplash
Back and spinal cord injuries
Paralysis
Soft tissue damage
Concussions and other head injuries
Traumatic brain injuries
Scarring and disfigurement
Severe burns
Loss of limb
Chest injuries
Internal organ failure or damage
Unfortunately, these types of accidents can also lead to fatalities. Multi-car accidents lead to more fatalities than single car crashes. In the case of a wrongful death, you can seek damages for the pain and suffering of losing your loved one,  including the loss of their care and support, mental anguish and the loss of their love and comfort, funeral costs and other expenses you might have incurred as a result of losing your loved one.
The Rothenberg Law Firm Offers Free Consultations
You may receive a tempting settlement offer from an insurance company to settle your case. Before you agree to a settlement, discuss your case with one of our New York auto accident attorneys for a confidential consultation and free case evaluation.
Don't let money get in the way of protecting your rights. Our personal injury attorneys work on a contingency fee basis. This means you pay anything unless we win. Contact us at 1-800-624-8888 to start your free case evaluation today.