Traumatic Brain Injury Attorney
Traumatic Brain Injuries (TBI) are a leading cause of death and disability in the United States. As reported by the Centers for Disease Control and Prevention (CDC), about 2.8 million Americans suffer from a traumatic brain injury each year. Many of those are seriously injured, as the CDC notes that TBI's constitute a third of all injury-related deaths in the U.S. Traumatic brain injuries may lead to permanent or temporary impairment of the brain's functions, leaving the victim in varying states of debilitation. These injuries can be catastrophic, affecting the victim on physical, psychological, and social levels. It could take months or even years to recover and medical care expenses can become debilitating, negatively impacting the victim's quality of life. TBI's at worst can lead directly to wrongful death.
At The Rothenberg Law Firm LLP, our legal team understands these circumstances can place major emotional and financial burdens on brain injury victims and their loved ones. Medical bills add up quickly, forcing family members to carry the burden of caring for TBI victims, arranging medical care, physical therapy appointments, and managing medical expenses all at once.  Because of this, it is extremely important to choose attorneys experienced in traumatic brain injury cases to best navigate your case.
***Our Personal Injury Lawyers are here to help you with a free consultation and case evaluation!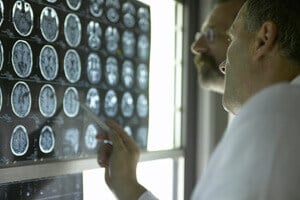 What are the Common Causes of Traumatic Brain Injuries?
The National Center for Injury Prevention and Control notes that children under 4 years old, adolescents between the ages 15 and 19, and the elderly are the most susceptible to a TBI. 
The most common causes of TBIs include: 
Many brain injuries are the result of bruising, bleeding, twisting or tearing of the brain tissue.  Brain trauma may not only occur at the time of the accident but also over time as tissues swell and bleed within the head. 
Traumatic brain injuries may lead to permanent or temporary impairment of the brain's functions, leaving the victim in varying states of debilitation. An example of this impairment could be blurred vision. TBIs could also potentially lead to personality changes, mood swings, abnormal sleep patterns, and other psychological damage.
Whether you or a loved one has experienced a TBI, the personal injury lawyers at The Rothenberg Law Firm LLP want to help guide you through your brain injury lawsuit in order to receive maximum compensation. You will not be charged any fees unless and until we reach a favorable verdict or settlement, meaning you will not pay a fee until we are successful in getting you money.
Everyone at your firm was very personable, caring, and diligent. Your amazing work was evident every step of the way, and for that I cannot thank you enough. From the very beginning I felt like everyone actually cared deeply about our situation, and it made the entire process much less stressful than I thought it would be. Please accept our warmest thanks. We will be sure to recommend your team to anyone who is in need of legal help. Testimonial from Jenice W.
Types of Traumatic Brain Injuries
No two brain injuries are the same, but most can be categorized as either an open head injury or a closed head injury. 
Open head injuries can result from the scalp or skull being broken or penetrated. These injuries typically have frightening results and because of the complicated inner workings of the brain, removing objects from the skull can be risky. Open head injuries can require acute and continued medical attention that can be extremely costly.
Closed head injuries can be just as serious, but in these cases, nothing penetrates the skull. They are caused by an impact to the head and do not involve any foreign objects entering the brain, which is characteristic of a concussion. Concussions, also known as mild traumatic brain injuries, are caused by a sudden blow to the head or whiplash.  Even mild TBIs can be very serious, and could potentially be accompanied by loss of consciousness or memory loss.
Prolonged lack of oxygen, or an " anoxic brain injury, " can also have severe and life-threatening consequences. This type of TBI is a  serious injury that causes brain cells to die from a lack of oxygen. 
Common types of brain injuries include:
Hematomas

Skull fractures

Contusions

Concussions