RV Camper Van Accident on the Winding Mountain Road. Recreational vehicles (RVs), motorhomes, and camper vans provide travelers with a unique way to comfortably adventure with friends and loved ones. When renting and driving an RV, nobody expects to get into a harmful accident. However, these vehicles are large and can be difficult to control, leading some to experience severe accidents in the process.
The causes of an RV accident range, as does the type of injuries and expenses that will follow. If you or a loved one have been involved in a motor vehicle accident involving an RV or motorhome, contact a personal injury lawyer from The Rothenberg Law Firm, LLP. We help ensure that accident victims receive the compensation they deserve.
Contact the personal injury attorneys at The Rothenberg Law Firm, LLP today for a free case evaluation.
What is a Recreational Vehicle?
There are many different types of recreational vehicles, some of which you may not even realize are considered a type of RV. RVs are generally organized into three categories: class A RVs (large), class B RVs (medium), and class C RVs (smaller).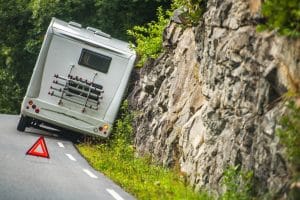 The following are the most common RVs used across the United States:
Fifth-wheel trailers
Truck campers
Van campers/converted vans
Folding and Pop-up camping trailers
Travel trailers
Park trailers
Motorhomes, and more.
Common Causes of RV Accidents
There are many different reasons that a car accident involving an RV may occur. Because these vehicles do not require a special driver's license, drivers are usually inexperienced with driving vehicles of this size. Inexperienced drivers can easily lose control of these large vehicles.
This lack of proper training could be one cause of RV crashes, though there are many more. Some common causes of recreational vehicle accidents may include;
Difficulty with maneuverability and visibility of blind spots, given the size of the vehicle;
Speeding;
An unbalanced load within the RV;
RV driver's fatigue;
Mistakes in product design by the RV manufacturers;
Tire blowouts;
Break failures;
Miscalculated turns leading to rollovers; and more.
No matter the cause of an RV accident case, the physical injuries and property damage sustained from the RV accident can be severe. If you have been involved in this type of auto accident, you deserve to be compensated for your losses.
What are Common RV Accident Injuries?
All sorts of accidents involving recreational vehicles can cause serious injuries. Beyond the physical pain and suffering caused by these accidents, medical bills, continued care medical expenses, and a lessened ability to work can put a great deal of financial pressure on the family members of accident victims.
Although all injuries sustained from an RV accident are harmful, injury cases can range from short term injuries to permanently life-altering. Some common injuries caused by a recreational vehicle accident can include;
Back injuries;
Whiplash;
Spinal cord damage/paralysis;
Broken bones;
And wrongful death.
By submitting an injury claim, your personal injury attorneys will fight on your behalf for the compensation you deserve.
Why Contact an RV Accident Lawyer?
The personal injury lawyers at The Rothenberg Law Firm, LLP care deeply about the attorney-client relationship and want to help you recover from your losses. By contacting our personal injury law team, you are giving yourself the opportunity to have a team of experienced lawyers fight for your rights.
We offer a free consultation to review your case. If after reviewing your case, we decide to represent you, you do not have to worry about the process from beginning to end. We will guide you through the process and we will never be compensated unless and until we are successful in winning your case.