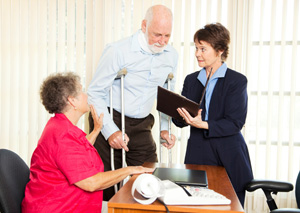 Serious injuries are not the only outcome of an accident. You may be in emotional pain and struggle to sleep and/or carry out your everyday tasks. Costly medical bills and lost wages from time off from work disrupt your recovery. If someone else was responsible for your injuries, you may be able to hold the responsible party accountable for physical, emotional, and financial damages.
The Rothenberg Law Firm has handled personal injury claims for over fifty years. We've recovered billions of dollars for clients in New York, New Jersey, and Pennsylvania. Our legal team treats the attorney-client relationship with respect and compassion. We provide experienced legal advice and protect your rights throughout the legal process. 
It's absolutely free to contact our office and speak with a personal injury attorney. Call The Rothenberg Law Firm at 1-800-624-8888 to schedule a free initial consultation. Discover how we can help you get the financial compensation you deserve.
How to Choose a Personal Injury Attorney
There are a lot of factors to consider before you hire a personal injury attorney. It is essential to look beyond flashy commercials, websites, or billboards and determine whether an attorney can win your case. Many are probably willing to work with you. However, that does not mean they are the right choice.
Consider the following factors when choosing an attorney:
Relevant experience. Hiring an attorney experienced in personal injury law should be a top priority. Ideally, they have been successful with cases that are similar to yours. For example, if you have a medical malpractice case, ask if they have been successful in this field of personal injury.
Fees. It is in your best interest to hire a personal injury attorney to handle your case on a contingency basis. That means there are no upfront legal fees. Instead, the lawyer gets paid from an agreed-upon percentage when you win. This means you never get stuck with a bill for attorney's fees if your case is unsuccessful.
Communication. Your personal injury case is important, and you deserve legal counsel who will treat it that way. Hiring an attorney with solid communication skills will ensure that you always receive updates on the status of your case.
Resources. Personal injury cases can last a long time, especially if the defendant's insurance company will not agree to a reasonable settlement and it has to go to trial. Therefore, ensure that your attorney has the resources to handle the case from start to finish.
Frequently Asked Questions that many people have regarding a personal injury claim:
Get a Free Consultation from a Personal Injury Law Firm
If you are the victim of a personal injury accident, there are several things you can do to help yourself. First and foremost, make sure that you seek proper medical attention.  Next, follow up with the proper authorities and your own insurance company. Remember to record everything that you can about your injuries and the accident scene. Make sure to contact an attorney right away even before speaking to your own insurance company! Depending on the circumstances, you may find that your own insurance company will become adversarial. 
You must cooperate with the police,  any medical professionals, and your own insurance company. Finally, be careful about discussing your case with anyone else before contacting a personal injury attorney. If you believe your personal injury accident was caused by someone else's carelessness, negligence, recklessness, or intentional actions, call The Rothenberg Law Firm at 1-800-624-8888 or submit an online questionnaire for a free case evaluation. 
The initial consultation for your personal injury claim is always free of charge. If we agree to handle your case, we will work on a contingency fee basis. 
Case Results
$11,500,000 For traumatic brain injury in construction accident.




$5,461,000 Woman sustained serious injuries in collision with truck. Jury verdict.




$4,000,000 Injury to 19-year-old in a trucking accident.




$2,800,000 Death due to overdose of anesthesia.




$1,800,000 Plaintiff rear-ended another vehicle.
Why Choose The Rothenberg Law Firm for your Personal Injury Lawyer?
Now that you are clear on the benefits of having a personal injury lawyer, you may wonder why you should choose The Rothenberg Law Firm?
We are a family of lawyers and legal support professionals, all dedicated to accomplishing the same mission. When a client hires us, they get a legal team that is committed to our mission: maximizing our client's recovery, repairing shattered lives, going to trial when needed, and winning a client's loyalty. 
Serious injury cases are not just business for us—they're personal.  When we take on a new client, we adopt them as part of our family, and we fight for them in every way possible. 
For over fifty years, our experienced attorneys have won numerous multi-million-dollar verdicts, settlements, and awards for accident victims. We tilt the playing field for clients who are at a distinct disadvantage going up against wealthy corporations and insurance companies. 
We are more than simple legal counselors to our clients. We provide real solutions in their darkest hours. We devote our time to meet their needs and are passionate advocates in trial. We go the distance for our clients when liable parties do not offer full and fair compensation for the damages they caused. 
Our office carefully selects cases with a vision to try them. All of our work is prosecuting a case to the fullest extent of the law in order to maximize damages for our clients. We build a case to ensure juries and judges can accept and understand what truly happened. We do very well and our track record shows it.
At the end of the day, we want clients who will enthusiastically recommend us to others without hesitation. That has been our motivating force in capturing BILLIONS of dollars for clients. It is also the reason we aspire to be one of the best personal injury firms in the country.