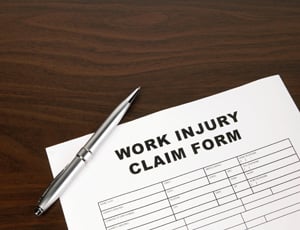 Sometimes an employee is injured (or even killed) as a result of an accident or occupational disease on the job.  If this should happen, state laws require that your employer or your employer's insurance company compensate you or your family.  Workers' Compensation is designed to protect workers and their dependents against the hardships from injury or death arising out of the work environment.
If you or a loved one is harmed while on the job you may be entitled to the following in a workers' comp case:
Weekly benefits while you are temporarily totally disabled and unable to work;

Payment of your medical expenses; and

Weekly payments or a lump sum payment for partial or total disability resulting from a work-related injury.
What Should I Do If I Experience an Injury At Work?
If you are injured at work, you should report the injury immediately to your employer.  You should also ensure that you receive the medical help that you need. It is important to keep all documentation related to the injury at work in case it is needed down the road for a workers' comp claim.
If an agreement with your employer or his/her insurance company is not reached regarding compensation or support following the accident, then you can file a workers' comp claim with the Industrial Commission.  The process of filing a workers' comp claim can be stressful, confusing, and time-consuming. A workers' compensation attorney will be able to help guide you through it.
You May Be Entitled To More Than Just Workers Compensation:
Our client experienced an injury at work when he placed his toolbox on a dolly that had no brakes.  The dolly moved.  The toolbox fell crushing our client's ankle. We sued the manufacturer of the dolly and obtained a multi-million dollar recovery for our client; far more than that he was entitled to under workers' compensation laws.  We always consider third-party actions (eg. against the manufacturer of an inherently dangerous product or machinery) when there is a workers compensation claim.
Although workers' compensation laws are designed to eliminate most direct lawsuits against employers and employees many times workers are injured at work as a result of the negligence, carelessness of one with whom he is working who is employed by a different contractor or subcontractor and therefore would not be precluded by workers' compensation laws from bringing an action to obtain full financial compensation for the pain, suffering and economic loss sustained.  Such an action can result in an award and settlement far exceeding that to which workers' compensation pays.
We are always analyzing on the job injuries to determine whether or not there could be potential monetary recoveries against a negligent defendant not protected by workers' compensation laws. Our analysis is free and we will let you know for free whether or not you have such a case.