Construction work is one of the most dangerous jobs in America. Construction industry accidents injure or kill thousands of workers every year, and construction workers account for one in five workplace fatalities in the United States.  Very often, these construction injuries occur when construction companies fail to provide safety engineers and fail to implement critical safety measures. 
No matter the cause or nature of the injury,  injured construction workers are entitled to some kind of compensation. A construction accident attorney diligently pursues these personal injury claims and/or workers' compensation claims to ensure injured workers are awarded money for any damage suffered.
Typical Construction Accident Injury Benefits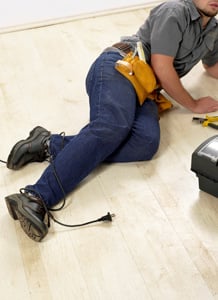 If you have suffered a construction site injury, you may be able to file one or more of the following legal claims:
Workers' Compensation Claims

- In most states, the Workers Compensation Act

 

does not allow an employee who is injured on the job to sue his employer for work-related injuries because employees receive workers' compensation insurance provided by the employer's insurance company. These benefits are available to an employee even if he is injured due to his or her own carelessness; all the worker must do is prove that the injury occurred. 
Injured employees receive benefits including weekly payments and reimbursement for medical expenses. Weekly payments are based on a percentage of the worker's weekly earnings and on the severity of the disability, whether it is a temporary total disability or a permanent partial disability. 
Unfortunately, these benefits are often insufficient to cover the pain and suffering associated with an on-the-job construction injury.  In addition, reimbursements for medical expenses only cover those treatments deemed necessary and related to the specific work injury. Therefore, injured employees may look into additional legal options to receive the benefits and compensation they require.
Third-Party Liability -

A third party, such as a property owner or product manufacturer, could be liable for negligence when an injury occurs at a construction project site. 

Wrongful Death Claims

- If someone, by either action or a failure to act (neglect), causes the death of an employee, the victim's family or estate may bring a civil action to collect damages on the victim's behalf.
Third-Party Liability in Construction Site Accidents
In many circumstances, it may be possible to sue a third party for job-site construction injuries. Property owners, architects, contractors, and equipment manufacturers can all be held liable for accidents if they did not provide required safety measures. General contractors and subcontractors are responsible for providing appropriate safety provisions that ensure a construction site is reasonably safe. If they fail to do so, a construction worker may be able to bring a claim for negligence for his or her injuries.
They are obligated to:
warn of possible hazards

on the site

hire employees

who will

use caution

while working

coordinate

job safety

check

that all

safety specifications

are

followed
Manufacturers of construction equipment are responsible for designing and maintaining safe products. If proper safety measures are not employed in the production of this equipment, the possibility of injury or death increases greatly. Manufacturers of this equipment can be found liable when an accident occurs due to a defect in one of their products. 
Talk with an experienced construction injury lawyer to see if third-party liability applies in your case.