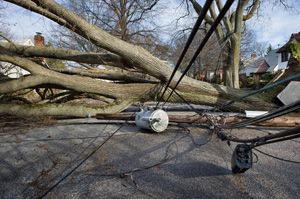 The human body is mostly composed of water, which makes people strong conductors of electricity.  Electric shock occurs when a part of one's body, including skin, muscles, or hair, contacts an electricity source, causing an electric current to pass through the body. Depending on the severity of the shock, electrocution injuries range from minor burns to life-changing wounds that can sometimes be fatal.
At the Rothenberg Law Firm LLP, we understand the way an electrical injury can damage the quality of one's life and place major emotional and financial burdens on both accident victims and their loved ones. Electrocution injuries often require victims and family members to arrange medical care, physical therapy appointments, and manage medical bills all at once. 
If you or a loved one has suffered an electrocution injury, the negligent party responsible for the injury should be held accountable and compensate you for your injuries. It is critically important to seek legal help from a personal injury law firm that can both skillfully navigate your personal injury lawsuit and approach the attorney-client relationship with care and sensitivity. Our personal injury attorneys are here to help you with a free case review and consultation and will do everything in their power to ensure you receive fair compensation.
Common Causes of Electrocution Accidents and Electrical Shock Injuries  
Electric shock can occur in many different contexts and for a variety of reasons, including damaged or frayed electrical cords, contact with an electric outlet, lighting strike, or electrical appliances contacting water. Most electrocution injury cases occur in the following situations:
Construction Site Electrical Accidents:
Construction workers are particularly vulnerable to electric shock injuries. According to the Electrical Safety Foundation International, 54% of all fatal electrical injuries and 20% of non-fatal electrical injuries occur in the construction industry.
Electric shock injuries are common work-related injuries. Employers are required to provide their employees with a safe workplace. Electric shock injuries often occur at construction sites when an employer fails to follow the Occupational Safety and Health Administration guidelines. When an employer fails to provide a safe workplace, an employer can be liable for injuries that an employee sustains while on the job.
Construction workers and others who suffer electrical injuries while working can file a  workers' compensation claim for damages suffered due to the injury. If the electrocution injury occurred as a result of a third party's liability, then the injured party may be able to bring a personal injury action as well. An experienced construction accident lawyer can help you get the workers' compensation you deserve and can potentially bring a third-party personal injury claim to ensure you are compensated for your injuries. 
If a loved one was killed in an electrical accident, a personal injury lawyer can help the victim's family members file a wrongful death lawsuit.
Workplace Electric Shock Accidents:
Although most workplace electrocution accidents happen at construction sites, workers can suffer an electric shock injury in many other workplaces as well. Outside of the construction industry, defective wiring is a leading cause of workplace electrocution accidents. Other leading causes of electric shock in the workplace include contacts with electrical wiring, electrical equipment, and old extension cords.  
Another common cause of electric shock is in contact with defective or dangerous consumer products, such as kitchen appliances, electrical tools, televisions, hair-dryers, or other electrically-powered products. Manufacturers must design and sell products that are not defective or dangerous. If a manufacturer designs a defective product or fails to adequately warn consumers of the dangers of a product, manufacturers may be liable for electric shock injuries.
Private Property Electric Shock Accidents:
Business and private property owners are obligated to ensure that their properties are safe for customers and visitors. If an electrical accident occurs due to unsafe conditions on their property, the owners may be liable for damages due to premises liability. 
One of the more common causes of electric shock is contact with downed power lines or exposed electrical lines in buildings. Electrical companies and building owners have a responsibility to adequately maintain electrical lines and to prevent individuals from contacting these lines. If they fail to adequately maintain electrical lines, they may be liable for injuries caused by contact with the lines.
Common Electric Shock Injuries 
Electric shock can cause serious injuries that significantly impact the victim's life. Common symptoms from electric shock include:
Death

Cardiac Arrest

Brain Damage

Internal Organ Damage

Stroke

Muscle pain and contractions

Difficulty breathing

Severe Burns

Irregular heartbeat

Headache

Loss of Consciousness

Numbness, tingling, paralysis, vision, hearing, or speech problems
The type and severity of these symptoms depend on several factors, including:
Voltage type and strength

Length of time one is in contact with the electricity

Contact point of the electricity and how it moves through one's body

Medical condition and age of the person

How quickly the victim is treated
First Aid for Electrocution Injuries
If someone has suffered an electrical injury, you should immediately call 911 for assistance, as injury victims require medical attention as quickly as possible. In addition to calling 911, make sure to follow these guidelines:
Don't touch or move the electrical injury victim unless he or she is in immediate danger. If the injured person is still in contact with the electrical current, it could cause a second electrical shock.

If the source of the electrical injury is a high voltage wire, do not go near the wires until the power is turned off and a trained electrician addresses the problem.  If the electrical wiring is jumping or sparking, stay at least 20 feet away from the wires.
Contact Our Personal Injury Attorneys for a Free Consultation and Free Case Evaluation 
If you or a loved one has been the victim of an electric shock, it is critically important to speak with an electrocution injury lawyer to discuss your personal injury claim.
Contact the experienced personal injury lawyers at The Rothenberg Law Firm LLP by filling out a contact form online at InjuryLawyer.com or by calling our phone number, 1-800-624-8888.  The initial consultation is FREE of charge. Our legal team works on a contingency fee basis; if we agree to handle your case, there are no legal fees unless we are successful in getting you money.