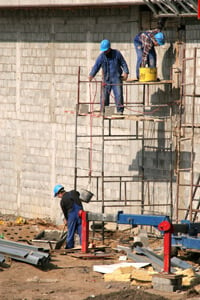 Every day, construction workers risk serious injury or death as they perform their essential tasks at construction sites throughout the country. When scaffolding is not secure, construction workers can fall from dangerous heights and suffer substantial injuries. Of the estimated 500,000 construction accidents that occur annually, one out of every five of these accidents involves scaffolding.
Most construction is done high above the ground, where construction workers rely on ladders and scaffolds to complete their necessary tasks. Almost 65% of all construction workers, or 2.3 million people, perform tasks on scaffolds. Window washers and painters are also at risk, as they use scaffolds to perform required tasks at great heights. In busy cities, nearby pedestrians are also in harm's way. 
Common Construction Industry Work Injuries 
Construction site accidents can lead to many kinds of serious personal injuries.  Among the most common are:
Traumatic Brain Injuries

– If a worker falls from scaffolding, or if scaffolding collapses and falling objects strike a worker or passerby below, the victim will likely experience significant brain trauma.

Spinal Cord Injuries

– Falling from a high location is likely to cause trauma to the back or neck. Spinal cord injuries can result in permanent paralysis.

Electrocution

– If scaffolding touches or collides with live power lines, the metal scaffolding can become a conduit for electricity, causing electrocution.
If you or a loved one have been the victim of a scaffolding accident, contact an expert in personal injury law to discuss your injury case. 
Dangerous Conditions that Lead to Scaffolding Injuries 
The Occupational Safety and Health Administration (OSHA) protects your right to a safe work site. Your employer is required to follow safety precautions and keep your workplace free of known health and safety hazards. These standards require and regulate the use of:
Base plates and mud sills

Scaffold ties

Side brackets

Guardrails 

Toeboards

Work platform decking

Fastening pins
Many construction companies do not properly maintain their safety equipment, which they often consider unnecessary or too expensive. However, the failure to properly maintain safety equipment is a violation of OSHA standards and can cause accidents and lead to substantial injury. 
The most common causes of scaffolding accidents are:
Defective equipment

Improper construction

Lack of safety equipment features

Inadequate fall protection

Negligence in failing to provide proper supervision and/or maintenance
If an accident was caused, even partially, because of a violation of OSHA standards, your employer may be subject to liability. A personal injury lawyer can assist you in filing an OSHA claim to protect your rights.
How a Scaffold Accident Lawyer Can Help?
Many construction workers mistakenly believe that they will not be able to file a legal claim against a negligent party because they are already receiving workers' compensation from their employer's insurance company. However, workers' compensation only prevents you from filing a claim against your employer. 
If your injury was caused by a negligent third party, such as a general contractor, subcontractor, property owner, manufacturer or delivery driver, the third party can be held liable for your injuries. 
Very often, the benefits of workers' compensation are not enough to relieve the financial burden your injury has caused you or your loved one. It is critical to contact an experienced attorney to see if third-party liability applies in your case. 
Call Scaffolding Accident Attorneys for a Free Consultation
If you or a loved one has been injured due to a scaffolding accident, you should contact an experienced construction accident lawyer at The Rothenberg Law Firm LLP to assist you in pursuing your case. You can reach a construction accident attorney at The Rothenberg Law Firm LLP by submitting a free case evaluation online at InjuryLawyer.com or by calling our phone number, 1-800-624-8888. The initial consultation is FREE of charge. We work on a contingency fee basis; if we agree to handle your case, there are no legal fees unless we are successful in getting you money.   
In addition to offering legal representation, our legal team approaches the attorney-client relationship with compassion. At The Rothenberg Law Firm LLP, we understand these circumstances can place major emotional and financial burdens on injured workers and their loved ones. Medical bills add up quickly, forcing family members to carry the burden of caring for injured workers, arranging medical care, physical therapy appointments, and managing medical expenses all at once.  Because of this, it is extremely important to choose a personal injury lawyer who can skillfully navigate your case with care and sensitivity. Our personal injury attorneys are here to help you with a free case review and consultation!
Some personal injury claims must be filed before an impending expiration date, known as the Statute of Limitations. Therefore, call or contact us right away to ensure that you do not waive your rights to money damages or other benefits.
It is impossible to make generalizations about the value of any wrongful death or personal injury case without knowing the details of the injuries and how the accident took place. Call now for real-time assistance at one of our law offices in New York, New Jersey or Pennsylvania.