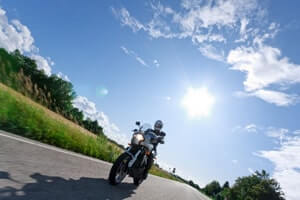 More Summer Motorcyclists, More Need for Safety Measures
While many motorcyclists might think that the winter months are among the most hazardous for riders given the prevalence of icy and slick highways, a recent article from KUTV.com emphasizes that motorcyclists also need to be thinking about safety measures during the summer. In particular, if you live in a state that is prone to particularly cold winters, you might assume that the months of July, August, and September do not present any weather hazards. However, a serious motorcycle accident can happen at any time of the year, and it is essential to take preventive measures to avoid a motorcycle crash.
First, motorcyclists should wear protective gear at all times of the year, including the summer.
Never think that especially hot and humid weather means that you can leave the protective clothing at home or that a helmet will be too hot to wear. While you may need to purchase a helmet and a set of gloves that are designed particularly for riding when temperatures are high, you do not want to enter the road without these important pieces of safety gear. On a related note, you should also think carefully about the risks of overheating. When summer temperatures climb into the 80s and 90s, heavy clothing could lead to heat stroke. Be sure to invest in lighter protective clothing.
You should also be aware that severe thunderstorms can occur during the summer months. While icy, wintry weather can cause significant havoc on the highways in December, January, and February, a particularly hazardous summer storm can also result in serious auto accidents. If you are riding along the Eastern seaboard, you should be aware of hurricane watches and warnings from June through November.
Finally, recognize that increased riding in the summer can lead to more wear on your bike and tires. Even though nicer weather allows you to ride more frequently, be aware of the fact that your tire treads may be wearing down at a quicker rate than you would expect in the winter. Make sure to check your tires for tread and air pressure before a long ride.
Motorcycle Accident Statistics
What do you need to know about motorcycle accident statistics? According to a fact sheet from the Insurance Institute for Highway Safety (IIHS), "motorcycles are less stable and less visible than cars." Given the above information as well as the fact that motorcyclists are not protected by an enclosed motor vehicle, they are "more likely to be injured or killed" than an automobile passenger. In fact, motorcycle fatalities account for around 13% of all reported deaths in traffic collisions and approximately 30% of motorcycle fatalities involve riders under the age of 30.
Given the high number of accidents associated with motorcycles, it is important to remember the above safety tips associated with motorcycle safety. Specifically, never get on your motorcycle without a helmet, as helmets are "37% effective in preventing motorcycle deaths and about 67% effective in preventing brain injuries."