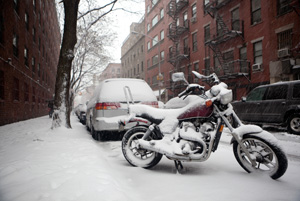 Being Prepared for Winter Weather Can Prevent Motorcycle Crashes
As the weather grows colder and roads become slick and icy, it is not just drivers in automobiles who need to take particular precautions to prevent accidents. Motorcyclists need to consider the risks of riding in winter and the dangers of being on a bike during inclement weather. According to an article in Ultimate Motorcycling, many riders do not properly prepare for bad weather on the highways and the difficult conditions that often come with cold fronts. As a result, avoidable motorcycle accidents occur too frequently.
However, just because we are beginning to experience winter weather does not mean that you cannot ride your motorcycle. If you are on a motorcycle and a winter storm approaches suddenly, it can be difficult to safely ride out the storm on the road. Even if you are wearing cold-weather clothing, the snow, heavy winds, and freezing temperatures associated with winter storms can quickly become life-threatening weather elements.
Tips for Avoiding Dangerous Motorcycle Accidents in Winter Weather
What do you need to know to stay safe on your motorcycle when the temperatures drop and winter storms roll in? According to the Ultimate Motorcycling article, the following are important safety tips for motorcyclists in colder climates:
Buy proper cold-weather clothing and layer it correctly. Wear motorcycle gear that helps to keep you warm in cold weather but also keeps you comfortable on your bike—the latter is essential for safe riding. You should own a fleece or other warm jacket, gloves, and a neck warmer. It is also important to ensure that your outer gear is waterproof.
Prepare your motorcycle for winter storms and riding in cold temperatures. This kind of preparation should also be aimed at keeping you safe and warm on your bike. Particularly, you should install a large windshield and heated grips for your hands. Also be sure to check your antifreeze levels.
Check your tires. When it is very cold outside, your tires will be cold, too. When tire material is cold, your tires do not get as much traction on the road. Be sure that your tire pressure is adequate before you ride, and do not go anywhere without ensuring you have enough tread remaining on your tires.
Keep a watchful eye for dangerous road conditions. Salt on the roads can limit your motorcycle's traction, which can quickly result in a dangerous accident. Black ice and road cracks are also difficult to spot in the winter, and they can lead to a severe crash.
In the event that a motorcycle accident does occur, you should learn more about filing a claim for compensation from an experienced motorcycle accident attorney.