Slip and fall accidents can happen almost anywhere and our experienced New Jersey slip and fall lawyers are always available to determine your rights. If you slip and fall or trip and fall on another person's property and sustain an injury, you may be eligible to seek financial compensation. Slips and falls occur in many different places, and in all seasons. Winter can be a particularly hazardous time of year, but a slip and fall can happen at any time. Have you encountered a patch of ice on the sidewalk, parking lots, or on a business's doorstep? Have you seen a cracked or broken curb on walkways outside a movie theater or a spilled beverage inside a supermarket? Have you had to walk in stairwells with damaged or missing handrails? Such conditions could lead to a serious slip and fall injury.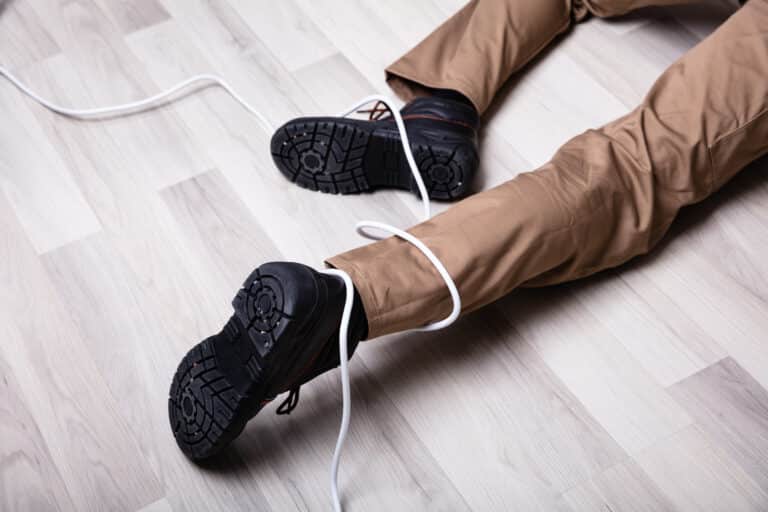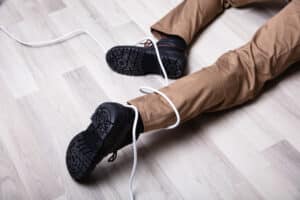 Slip and fall accidents fall under an area of the law known as premises liability. NJ premises liability law requires property owners and business owners to repair or to prevent conditions that could lead to another person's injury. This requirement for safe conditions includes owners of shops, malls, private homes, apartment complexes, and more. When a property owner does not respond appropriately to a hazardous condition on his or her property, or acts negligently, he or she may be liable for any injuries that occur. If you have sustained injuries in a slip and fall or trip and fall accident, it is important to speak to an experienced slip and fall lawyer knowledgeable about premises liability cases. You may be able to file a premises liability claim to seek compensation for your injuries.
***Your initial consultation is always free.
***We work on a contingency fee basis, which means you do not pay any fee unless and until we are successful in getting money for you.
***If your injuries were sustained due to factors other than a slip and fall, such as a car accident or medical malpractice, please visit the appropriate page on our site.
What Are Some Common Causes of Slip and Fall Cases?
Slips and falls can happen indoors and outdoors. They can arise from inclement weather, structural problems, spills, and other accidents. Some common reasons for slips, trips, and falls include but are not limited to:
Weather-related hazardous conditions:

Have you encountered a slippery sidewalk or a foyer after a snow or rainstorm? Inclement weather can create many different kinds of hazardous conditions like icy patches and dangerous puddles indoors. A property owner cannot control the weather, but he or she does have a duty to remove any hazardous conditions from his or her property.

Spills:

When liquids or foods spill at a place of business, including a grocery store or restaurant, they can create very hazardous conditions. A wet floor can frequently lead to slip and fall accidents. Property owners have a duty to remove spills like these in a timely manner and to warn customers about slippery areas when they learn about their existence.

Structural and surface conditions and defects:

Sometimes a property will have rough flooring, which can mean a cracked tile or a loose piece of carpet. In other cases, a marble floor might just be slippery on its own. Property owners have a duty to prevent slips and falls, and many everyday conditions can be hazardous.

Missing railings and inadequate lighting:

When a staircase does not have an appropriate railing, or if an area is not properly lit, someone can suffer a dangerous slip and fall accident. Property owners must install appropriate safety rails and lighting to ensure that others are safe from slips and falls in stairwells.
Common Injuries from Slip & Fall Accidents
When you fall suddenly and awkwardly, every part of your body is at risk. In the best circumstances, your injuries will be a minor inconvenience. However, many slip and falls result in severe traumatic injuries that require extensive medical attention.
Here are four of the most common slip and fall accident injuries: 
Cuts and Bruises
Bruises and cuts are the most typical slip and fall injuries. Though you may think you've caught a lucky break, you should still get assessed by a doctor. Cuts can turn into infections, and bruises may indicate serious trauma to your muscles or organs.
Spinal Cord Injuries
Spinal cord injuries come with intense pain and dangerous consequences. Landing on your back after a fall can chip your vertebra and cause slipped discs. If the fall is particularly forceful, nerve damage leading to temporary or permanent paralysis can also occur. If you have fallen on your back, visit a doctor as soon as possible, even if you believe the pain is negligible.
Broken and Fractured Bones
A harrowing trip and fall or tumble can break or fracture any of your bones. Often slip and fall accident victims experience broken wrists and ankles from trying to break the fall. For senior citizens, hip and tailbone fractures are very common. Often people do not realize that they have broken or fractured bones following the shock of the accident. It is wise to go in for x-rays after every hard fall.
Brain Injuries
Tumbling down the stairs or slipping on ice can result in a hit to the head. In some instances, the head trauma will be mild, a bump that triggers a headache, for example. But if a fall is hard or strikes the skull in the right way, traumatic brain injuries (TBI) can occur.
Concussions are complicated injuries and while in some cases symptoms can disappear in a matter of weeks, in many other instances, cognitive issues and disruptions can last for months or even years. These can be accompanied by painful sensitivities to light and noise, migraine headaches, difficulty concentrating, mood swings, insomnia, and feeling like you have a consistent lack of energy. In the most severe cases, seizures and even coma can result. As a result of these symptoms, many TBI victims report a major drop in their overall quality of life, as they are often not able to participate in or enjoy the activities they used to engage in.
While TBI can occur to men, women, and children of any age, senior citizens have the highest risk of being hospitalized or dying as a result of sustaining a traumatic brain injury.
The symptoms may not show up immediately, but every TBI is serious and demands medical care. Following a slip and fall where you hit your head, look out for these signs: 
Loss of balance
Nausea
Disorientation
Lethargy
Headache that won't go away
How Much Compensation Can I Obtain for My New Jersey Slip and Fall Case?
Every slip and fall case is different. As such, the compensation you may be able to receive will depend upon the severity of your injuries and the nature of your specific slip and fall accident. Slips, trips, and falls might not sound serious, but they can result in very severe injuries. Some slips may cause permanent disabilities, such as a traumatic brain injury or spinal cord injuries, and in some cases even death. In order to know how to proceed with your claim, an experienced slip and fall attorney will need to examine the particular elements of your case.
In slip and fall cases, accident victims can file claims to receive compensatory damages. These take the form of both economic damages and non-economic damages. Economic damages are those that have an objective monetary value attached to them, including but not limited to:
Medical bills and hospital expenses related to your slip and fall accident;

Physical therapy and rehabilitation costs; and

Lost wages and/or loss of future income when your injuries prevent you from working.
Non-economic damages compensate victims for the aspects of their injuries that are difficult to assess a precise dollar figure. Non-economic damages include but are not limited to:
Damages for pain and suffering;

Compensation for the psychological pain of permanent disfigurement;

Loss of enjoyment of life; and

Loss of consortium in cases where a loved one has sustained severe injuries.
A premises liability attorney can advise you about filing a claim for compensation. In some cases, you may be able to file alternate or additional claims. For instance, if you slipped and fell at work, you may have a workers compensation claim. Or, if a loved one passed away because of injuries sustained in a slip and fall accident, you may be able to file a wrongful death lawsuit.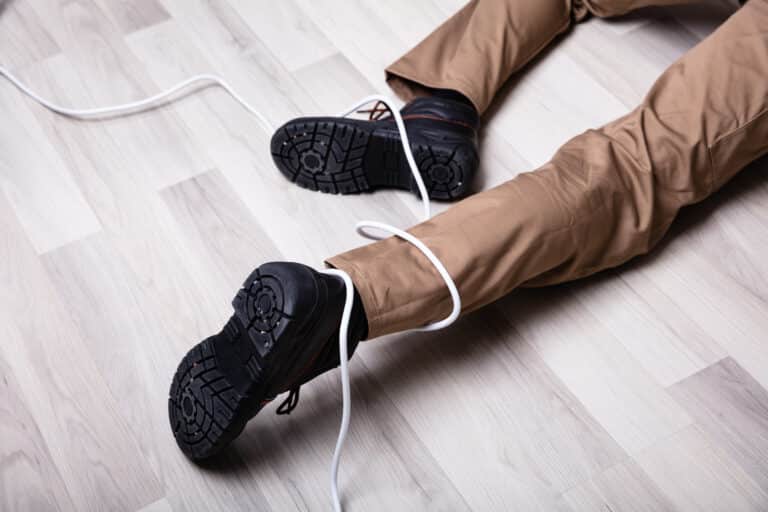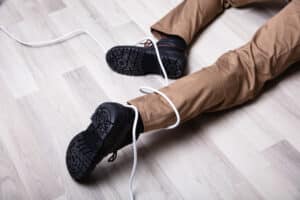 What Should I Do After a New Jersey Slip and Fall Accident?
When you have been injured in a serious slip and fall accident, you might have difficulty thinking about the best legal course of action. It can be very difficult to obtain evidence for a slip and fall case in the days and weeks following the accident as the evidence often is time sensitive. As a result, it is extremely important that you record all aspects of your slip and fall injury. In general, you will want to make a record of the scene of the accident. For example:
Report your accident to the property owner;

Take photographs of the hazardous conditions that caused your fall;

Write down any information about the scene that might be important later on; and

Collect the names and contact information of any witnesses.
Because slip and fall cases present complex issues, contact a slip and fall attorney to discuss the details of your case. The sooner you call us, the more likely you are to remember important facts about the accident, and the sooner you will be able to seek compensation for your injuries. Never accept a settlement from the property owner or from the insurance company. They will want to pay you as little as possible, and you deserve full compensation for the serious injuries you sustained. Only an experienced premises liability lawyer knowledgeable about personal injury law in New Jersey can make sure that you are properly compensated for your damages.
Is My Slip and Fall Case Valid?
Slips and falls can range from very minor to very serious. Without examining the specific elements of your case, it is nearly impossible to know whether you have a valid claim for compensation. One example of a questionable case would be trespassers who do not have a legal reason for being on the property where they slipped. Other than this example, however, if you believe you suffered a slip and fall injury because of a property owner's negligence, it is important to speak to a knowledgeable slip and fall attorney to determine your rights.
At The Rothenberg Law Firm LLP, we will take a close look at your case and can advise you on the best course of action. With our firm, your initial consultation is always free and we do not take any fee unless and until we are successful in winning money for you.
Do I Need Legal Representation for My Slip and Fall Lawsuit?
It is extremely important to have a New Jersey premises liability lawyer on your side when you are dealing with a serious slip and fall claim. The defendant and the insurance company are likely to low-ball any settlement offers, and you will need an advocate who is on your side. Keep in mind that insurance companies are not on your side! Even if the property owner and his insurance company behave amicably, they are trying to pay you as little as possible. You will need an experienced personal injury lawyer who can deal effectively with the other side. Without a slip and fall lawyer, you may not be treated fairly by the defendant. At The Rothenberg Law Firm LLP, we have years of experience handling slip and fall cases, and we can discuss yours today.
Why do I need help from accident attorneys?
By contacting an accident lawyer, you can be assured that your personal injury case will be handled by professionals with a broad understanding of New Jersey law. The personal injury attorneys at The Rothenberg Law Firm LLP are not only experienced with cases of slip and fall accidents and the injuries that may result from them, but also care deeply about the client relationship. You deserve to receive maximum compensation to cover your medical expenses and pain and suffering, including acute medical care and continuing medical treatment,  resulting from your slip and fall. 
You are entitled to a free case evaluation for your personal injury claim by our experienced NJ slip and fall attorneys.
Who Can Be Held Liable for Slip and Fall Accidents in New Jersey?
The answer to this question is a pretty simple one: property owners are liable for slip and fall accidents. When you visit a store, a restaurant, or even a friend's home, the owner of that property has a duty to make sure it is free of possible hazards. Property owners must make their properties reasonably safe for others. In most cases, that means removing, preventing, and/or warning about dangerous conditions. Property owners usually have liability insurance to make sure that anyone on their property is adequately compensated for any injuries that arise. When you bring a claim against a property owner, his or her insurance company will also be involved and will have an attorney ready and willing to defend the property owner against your claim. Therefore, you should always speak to an attorney before you discuss your case with the property owner's attorney.
How much time do I have to file an accident claim in New Jersey?
The amount of time to file a claim for a slip and fall in NJ, otherwise known as the statute of limitations is two years from the date of the accident. If the injured person was under age 18 at the time of the accident, he or she has until age 20 to file the claim.
In certain situations, there are further limits applied to the amount of time one has to file a claim. Specifically, if the slip and fall accident occurred on premises owned by the state government, a county government office or a municipal office, your claim is subject to the New Jersey Tort Claims Act. This means, you will have to give notice of the accident to the governmental entity and file a claim within 90 days of the accident. The NJ Tort Claims Act is complex and you should be sure to contact an experienced personal injury attorney before you file a claim.
Similarly, there is a different statute of limitations if your slip and fall injury occurred on property owned or operated by the Port Authority of NY or NJ. In this case, the Port Authority has its own specific notice requirement and claim forms to complete and there is only a one year statute of limitations to file your lawsuit.
Our Slip and Fall Attorneys Will Advocate for Your Rights
Have you been injured in a dangerous New Jersey slip and fall accident? If the property owner's negligence caused your injuries, you deserve to be compensated. Each slip and fall case is different, and it is important to seek the guidance of an experienced legal professional. The dedicated attorneys at The Rothenberg Law Firm LLP know how difficult the aftermath of an accident can be for you and your loved ones. Our firm offers a free consultation, and we can discuss your claim with you today. Contact us for more information.
Over A Billion Dollars in verdicts & settlements for our clients
Our firm has over five decades of experience representing injured people. We have recovered over a billion dollars for our clients. Discover our results and let us help you today.