Early Darkness Infographic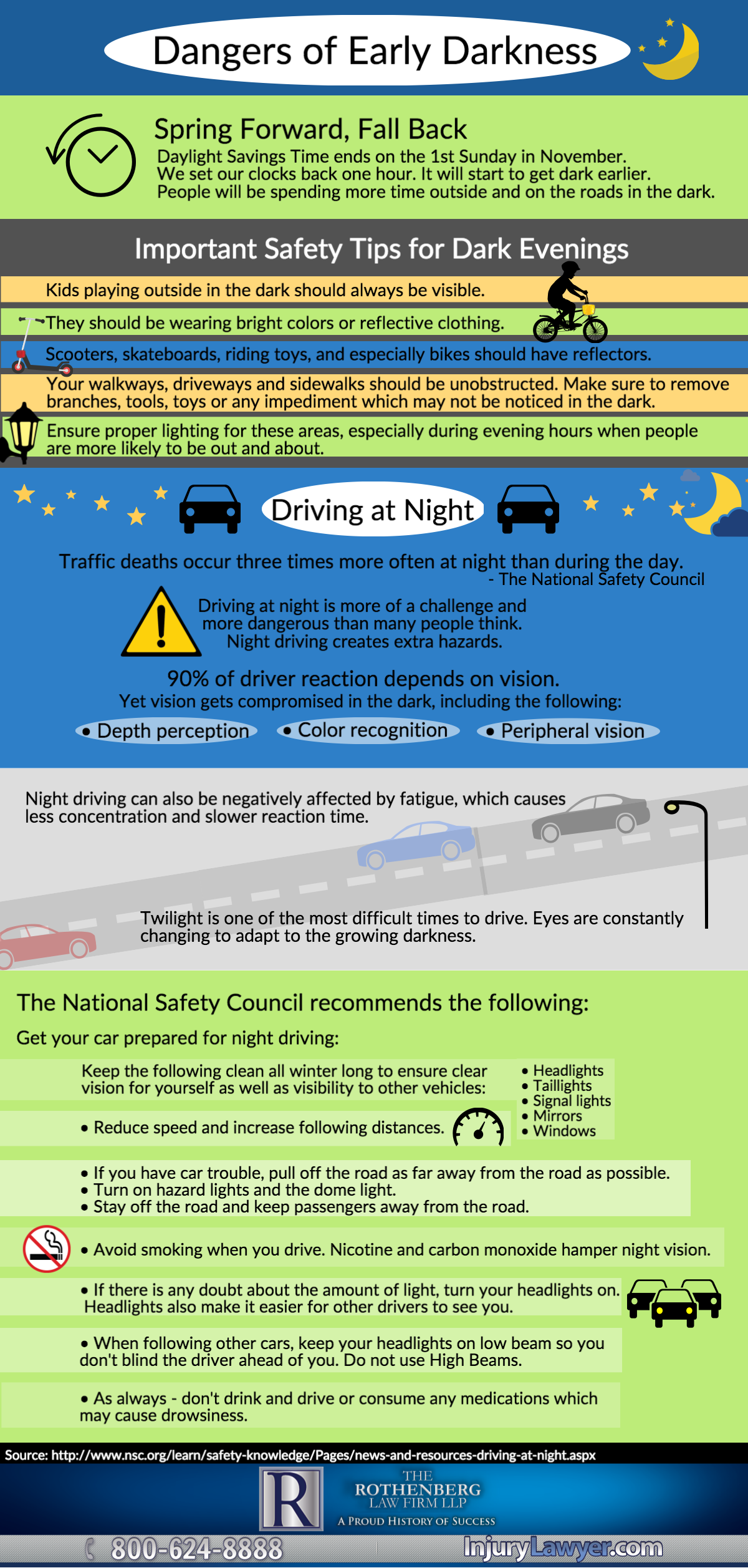 ---
Content Summary for Early Darkness Infographic
Dangers of Early Darkness
Spring Forward, Fall Back Daylight Savings Time ends on the 1
st
Sunday in November We set our clocks back one hour. It will start to get dark earlier. People will be spending more time outside and on the roads in the dark.
Important Safety Tips for Dark Evenings
Kids playing outside in the dark should always be visible. They should be wearing bright colors or reflective clothing. Scooters, skateboards, riding toys and especially bikes should have reflectors. Your walkways, driveways and sidewalks should be unobstructed. Make sure to remove branches, tools, toys, or any impediment which may not be noticed in the dark. Ensure proper lighting for these areas, especially during evening hours when people are more likely to be out and about.
Driving at Night
Traffic deaths occur three times more often at night than during the day. – The National Safety Council Driving at night is more of a challenge and more dangerous than many people think. Night driving creates extra hazards. 90% of driver reaction depends on vision. Yet vision gets compromised in the dark, including the following:
Depth perception
Color recognition
Peripheral vision
Night driving can also be negatively affected by fatigue, which causes less concentration and slower reaction time. Twilight is one of the most difficult times to drive. Eyes are constantly changing to adapt to the growing darkness.
National Safety Council recommends the following:
Get your car prepared for night driving:
Keep the following clean all winter long to ensure clear vision for yourself as well as visibility to other vehicles:

Headlights
Taillights
Signal lights
Mirrors
Windows

Reduce speed and increase following distances.
If you have car trouble, pull off the road as far away from the road as possible.
Turn on hazard lights and the dome light.
Stay off the road and keep passengers away from the road.
Avoid smoking when you drive. Nicotine and carbon monoxide hamper night vision.
If there is any doubt about the amount of light, turn your headlights on. Headlights also make it easier for other drivers to see you.
When following other cars, keep your headlights on low beam so you don't blind the driver ahead of you. Do not use high beams.
As always – don't drink and drive or consume any medications which may cause drowsiness.