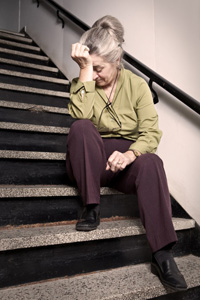 NYC Doormen Tasked with Elder Abuse Prevention
Aside from friends and family members, who is in the best position to keep an eye out for signs of elder abuse and neglect? According to a recent article in ABC News, doormen in NYC may be a very useful source for combating elder abuse. Jay Solomon, the director of the Weinberg Center for Elder Abuse Prevention, explained that "doormen know everything that's going on." Specifically, Solomon emphasized that "they know who's going in, who's going out," and "they have access and they have a relationship of trust." In other words, abuse can occur right under our noses, and doormen may have more opportunities for observation.
As such, Solomon's organization and the building workers' union are enlisting doormen "as an army of eyes to look for signs of elder abuse," such as "a stranger picking up the mail, the sudden presence of a rarely seen relative with an attitude, a bruise." If doormen suspect something unethical, they can take action.
Several years ago, Solomon began holding training sessions for doormen, porters, and other apartment workers in New York City, ABC News reported. The Weinberg Center is now expanding its efforts to provide training for other workers "who come in contact with isolated seniors," such as food-delivery employees. It is very important to have new people keeping an eye out for signs of elder abuse, as the majority of incidents go unreported. In fact, the National Center on Elder Abuse (NCEA) informs us that "only about four percent of elder abuse incidents in New York are reported."
Doormen and other building employees can make anonymous calls to New York's Adult Protective Services agency if they are worried about their job security. There is not enough data yet to know for certain whether the "doorman training" is making a statistical difference in abuse reporting, but we do know that raising awareness can help to prevent elder abuse in New York City.
Elder Abuse Statistics
According to the NCEA and the Administration on Aging, elder abuse is a significant issue in our country, and it is likely to grow in the coming years. As of now, people aged 65 and older comprise about 13 percent of the total U.S. population. With the continued aging of the "baby boomer" generation, experts expect that older adults will make up about 20 percent of the total population by the year 2050.
How does a rising number of older adults impact elder abuse statistics? In short, the more elderly citizens in our country, the more likely incidents of elder abuse will increase. It is important to know how to identify elder abuse and what you can do to prevent it. The NCEA defines elder mistreatment, also known as elder abuse or elder neglect, as "intentional actions that cause harm or create a serious risk of harm to a vulnerable elder by a caregiver or other person who stands in a trust relationship to the elder." Elder mistreatment can take the forms of emotional abuse, physical abuse, and/ or financial abuse.
Signs of abuse and neglect can include but are not limited to:
Bruises, bed sores, broken bones;
Infections;
Weight loss, dehydration, and malnourishment;
Poor hygiene;
Withdrawn behavior;
Emotional extremes.
If you suspect that an older adult has been the victim of elder abuse, it's important to report what you know. You should contact the authorities and your local adult protective services agency. In addition, you should speak to an experienced New York elder abuse lawyer who can discuss your options with you.