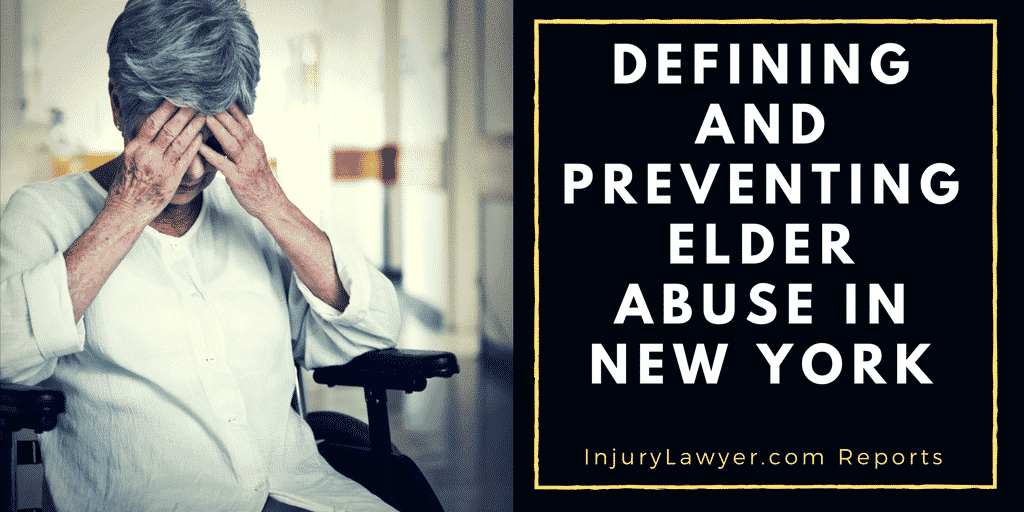 To Prevent Nursing Home Abuse, We Need Better Definitions and More Awareness
How does New York define the "elder" in elder abuse? According to a recent article in Long Island Business News, one of the problems of addressing elder abuse as well as nursing home abuse in New York is the difficulty of a specific definition of what the term "elder" means. Indeed, "researchers and experts can't agree on what 'elder' means—over 60? over 65? or is it a matter of mental capacity rather than arbitrary age?" Moreover, as the article contends, it is even more difficult to clearly define "elder abuse" given that it takes many different forms, from physical and sexual abuse to emotional abuse to financial abuse. In most situations, neglect and abandonment are also grouped in with the terminology of abuse.
If we cannot clearly define elder abuse in a way that makes sense to people in a variety of fields—from healthcare to law enforcement to community advocacy—how do we intend to have nursing home neglect lawyers prevent it from happening or to stop it when it does happen? As the article suggests, identifying, reporting, and preventing elder abuse and nursing home abuse in New York is extremely difficult "since definitions of elder abuse vary, and since there are no uniform reporting guidelines." Moreover, New York does not have mandatory reporting. As such, healthcare workers and other individuals are not required to report likely incidents of nursing home negligence.
Given that New York has a rising population of older adults, it is important we find a way to define the terms and to raise awareness about the various forms of elder abuse and nursing home negligence that exist. Currently, New York's population of adults aged 60 and older is at around 3.7 million. Within the decade, experts expect that about 25% of New York's population will be aged 60 and up, and "the 85-and-up population is the fastest growing demographic subset in this state." According to the Office for the Aging, the current rate of elder abuse in New York is at 76 per 1,000 population.''
Learning the Signs of Nursing Home Abuse
If you have concerns about an elderly loved one's safety in a New York nursing home, what are some of the signs and symptoms that you should know before seeking a nursing home abuse law firm? According to a fact sheet from WebMD, different types of elder abuse and nursing home negligence have distinct symptoms. The following information can help family members to identify possible incidents of abuse and neglect:
Physical abuse: Signs include unexplained cuts or bruises, broken bones, and repeated injuries;

Sexual abuse: Signs can include torn clothing, sexually transmitted diseases, bruising especially around the breasts or genitals, and bleeding;

Psychological abuse: Signs can include withdrawn or frightened behavior, unexplained changes in behavior, depression, and trouble sleeping;

Financial abuse: Signs can include unexplained bank withdrawals, a new "friend" who may need money, changes in legal documents, forged signatures, and missing financial statements; and

Neglect: Symptoms can include messy or dirty clothes, unkempt living space, sudden weight loss, bedsores, and missing devices such as eyeglasses or hearing aids.
If you are concerned about your elderly loved one, contact a nursing home abuse lawyer to discuss your situation.