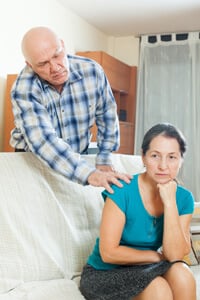 Dealing with Dementia in Sexual Relationships at Long-Term Care Facilities
If a patient is in a nursing home or other long-term care facility and suffers from dementia, is it possible to consent to sex? Or do these kinds of interactions necessarily fall under the rubric of elder abuse? This is an important question that a recent article from NPR posed. Given that sexual relationships "are not uncommon" at nursing homes, one must think carefully about questions of consent when dealing with patients suffering from all forms of dementia. Is it consensual or is it nursing home abuse?
For instance, a recent criminal case in Iowa involved a 78-year-old man being charged with sexual assault. A jury ultimately found the man "not guilty of raping his wife, who had Alzheimer's disease." How did the case arise? Staff members at the nursing home pushed for the charges after informing the husband that his wife's illness prevented her from consenting to sexual intercourse.
In New York, a facility has attempted to deal with this issue through its written policy:
For the last twenty years, the Hebrew Home in Riverdale has used a written policy concerning patients with dementia and their ability to consent. The facility has the policy to help staff members distinguish between a consensual relationship and the likelihood of elder abuse. The policy emphasizes that elderly residents have a right to intimacy, and the mere diagnosis of dementia does not necessarily strip a patient of his or her ability to consent. According to Daniel Reingold, the CEO of the nonprofit running the Hebrew Home, the policy "was controversial in 1995" when it was put into place, "and it's controversial today."
Reingold emphasizes the fact that the Hebrew Home wants to make clear that intimacy is "a good thing," but it also wants to "protect residents from unwanted sexual contact." He contends that, given the ability for Alzheimer's and dementia patients to make other decisions (such as participation in activities or meal choices), intimacy should not be an area in which only staff members make decisions.
Learning More About Dementia and Consent
Experts acknowledge the fact that it is very difficult to know whether a dementia patient is actually exercising his or her consent. One solution, according to Patricia Bach, a geriatric psychologist, might be formal training in this area for physicians at nursing homes and other long-term care facilities. As of now, "only 25 to 30 percent" of healthcare professionals at these facilities have "formal training in the area of intimacy and sexuality as it would pertain to older adults," while "30 percent have no training at all."
One must recognize signs and symptoms of dementia in order to properly consider the question of consent. According to the Mayo Clinic, dementia typically produces both cognitive and psychological changes. Each has its own set of symptoms.
Cognitive changes typically include one or more of the following:
Memory loss;
Difficulty communicating;
Difficulty "finding words";
Difficulty completing complex tasks;
Difficulty in plans and/or organization;
Difficulty with coordination; and
Becoming disoriented or getting lost.
Psychological changes often produce some of the following symptoms:
Changes in the personality;
Reasoning difficulties;
Inappropriate behaviors;
Becoming paranoid;
Becoming agitated; and
Hallucinating.
Symptoms of dementia can vary widely among patients. Depending on the disease's progression, your elderly loved one may not be able to consent to a variety of acts, including, perhaps, sexual intimacy. The National Center on Elder Abuse emphasizes that sexual abuse is one type of elder abuse. The issue of consent to sexual relations is complex. If you suspect that your elderly loved one has been the victim of sexual abuse, contact an experienced elder abuse attorney to learn more about his or her rights.