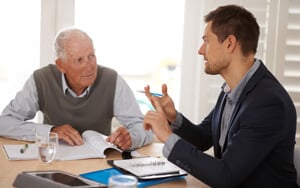 Nursing Home Evictions Aimed at Dementia Patients
When a nursing home evicts an elderly patient in need of care, can this individual or a member of his or her family file a nursing home abuse lawsuit? According to a recent article from ABC News, "nursing homes are increasingly evicting their most challenging residents, testing protections for some of society's most vulnerable." The article alleges that some of the patients most frequently targeted for eviction are those with dementia.
Patients who suffer from Alzheimer's and other forms of dementia can be more difficult to care for than other nursing home residents, and some facilities, according to the article, are electing to evict those residents instead of providing the level of care required for proper treatment. Indeed, according to the article "removing them allows an often stretched-thin staff to avoid the demands of labor-intensive patients in favor of ones who are easier and more profitable."
Based on data from the Long-Term Care Ombudsman Program, nursing homes and other facilities for the elderly across the country are witnessing a rise in nursing home evictions. Indeed, federal data shows that "evictions are up about 57 percent since 2000." And in 2014 alone, the most commonly reported grievance related to nursing homes was eviction—more than 11,300 ombudsmen reported potentially unfair evictions of nursing home residents.
Advocates for nursing facilities argue that evictions are necessary to keep other residents safe and healthy, and thus evicting patients with dementia is entirely legal. However, advocates for the elderly emphasize that these nursing homes may in fact be violating the law when they evict patients with dementia. Moreover, with the question of the legality of evictions comes the question of nursing home abuse and neglect. If nursing homes are deeming some patients too "difficult" or too "challenging" to handle – how often are these patients neglected and/or abused?
Dementia and Elder Abuse
Are patients with dementia at particular risk of nursing home abuse? According to a publication from the National Center on Elder Abuse (NCEA), the following facts and figures help to clarify the connections between elder abuse and dementia:
60% of caregivers have admitted to being verbally abusive toward patients with dementia;
Anywhere between 5 and 10% of caregivers for elderly patients with dementia have admitted to being physically abusive;
Around 14% of caregivers for those with dementia have admitted to engaging in elder neglect; and
More than 47% of seniors with Alzheimer's or another form of dementia have been victims of some form of elder abuse.
Elder abuse is unfortunately a growing problem in the United States. If you suspect that your elderly loved one may have been the victim of nursing home abuse, contact an experienced nursing home abuse lawyer to determine his or her rights.