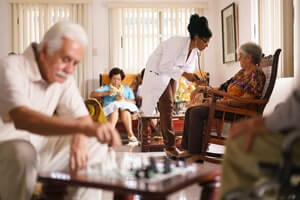 When we send our elders to an assisted living facility or nursing home, we expect them to be treated with dignity and given the proper medical oversight to live happy, comfortable lives. Unfortunately, nursing homes cause serious harm to thousands of residents every year by over medicating or failing to monitor the prescription drugs patients take.
One of the most dangerous classes of drugs frequently prescribed to nursing home patients is Coumadin, a blood thinning drug also known by its generic name, warfarin. Older patients are particularly susceptible to stroke and heart attack brought on by blood clots but these risks can be mitigated with proper Coumadin administration to thin their blood and prevent catastrophic episodes.
However, the drug is not without its risks. Every year, Coumadin causes 34,000 injuries to patients, many of which could have been avoided had health care professionals properly monitored the dosages given. Approximately 2.4 million adults received a Coumadin prescription under Medicaid. If nursing home patients are given too much Coumadin, serious or even fatal injuries can occur, one of the most common being hemorrhagic strokes (bleeding of the brain). Conversely, patients given too little of the drug could develop the fatal clots the medication is meant to prevent.
For these reasons, Coumadin patients need to have their blood checked frequently to ensure their PT/INR levels (blood clotting time) are in balance. Patients with excessively high PT/INR levels from too much Coumadin run the risk of catastrophic bleed outs because their blood cannot clot.
Nursing Homes Have a Responsibility to Monitor the Health of Their Patients
Nursing homes residents and their families should be able to rest easy knowing their loved one is in the hands of a trained, responsible, and caring staff. Sadly, this does not always happen and far too many patients suffer great harm due to the carelessness or indifference of nursing home staff.
Whether a resident suffers a catastrophic event due to overmedication or the healthcare provider's inability to recognize the signs and symptoms of a bleedout, victims and their families have legal recourse to investigate the incident and hold wrongdoers accountable for their negligence.
Do Nursing Homes Have to Report Injuries? Is there any Legal Recourse available for nursing home residents?
Under state and federal nursing home laws, nursing homes are required to report injuries suspected to be caused by abuse or neglect. This is because many of these facilities receive funding from state and federal healthcare programs designed to take care of our beloved elders.
Although nursing homes must report instances of possible abuse, drug overdoses and other medical episodes may not necessarily have to be reported. Often times, families of patients harmed by medical negligence do not learn of these overdose events unless death or serious bodily injury occur. Even then, negligent parties may attempt to cover up any mistakes to avoid liability to patients and family members. In these situations, victims and their families should contact an experienced and dedicated nursing home abuse and neglect attorney to investigate what went wrong and to determine who may be responsible.