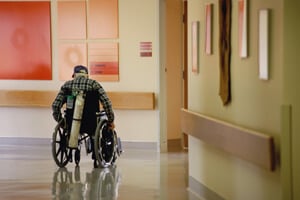 Moving an elderly parent or loved one into a nursing home can be a heart-wrenching experience. Unable to care for themselves, older adults are often left to the mercy of nursing home aides and staff.  Loved ones must trust that they are left in safe and sound care. A visit to a parent or loved one should be joyful, but at times these visits may reveal the horrible truth that the patient has been the victim of nursing home neglect. This unfortunate reality has become all too prevalent today, especially in the area of dental care in older adults.
Basic Care Ignored
Sometimes even the simplest tasks are left undone by caregivers.  The New York Times reports that many families are discovering that their relative's dental hygiene has been completely neglected by nursing home staff.  For example, the above referenced article points to a Virginia woman who found that her father's tooth had been broken in half, and had been causing him severe headaches. In another case, a Texas nursing home resident had been denied dental care for so long that her lower gums were completely filled with debris and, as a result, she suffered from severe pain that caused her not to eat.
Life and Death
It is a recognized fact that dental hygiene is critical to the health of nursing home patients. According to a study reported by the Journal of the American Dental Association, there is a link between dental hygiene and pneumonia and respiratory tract infection in elderly adults. The study noted that daily dental care actually reduces the risk of respiratory diseases in high-risk elderly adults in nursing homes and hospitals. In fact, daily oral hygiene practices are effective enough to reduce the risk of death of about one in ten elderly adults in nursing homes from pneumonia.
Unfortunately, a recent study by Patricia Coleman of the Center for Clinical Research on Aging at the School of Nursing at the University of Rochester demonstrated that certified nursing assistants, in most cases, fell far below the standard of care deemed to be appropriate for dental hygiene by a panel of experts. In only about 16% of observations, were teeth brushed and mouths rinsed with water. The study included 47 primary day shift certified nursing assistants who were charged with the care of over 67 elderly residents. Standards that were never met in any of those cases include: brushing teeth for two minutes, wearing clean gloves, oral assessments, flossing and rinsing with mouthwash.
If you or a loved one has been denied proper oral and dental care at a nursing home facility, it is important to seek out the assistance of an experienced attorney. All nursing home residents are entitled to adequate care- which should include proper dental hygiene.