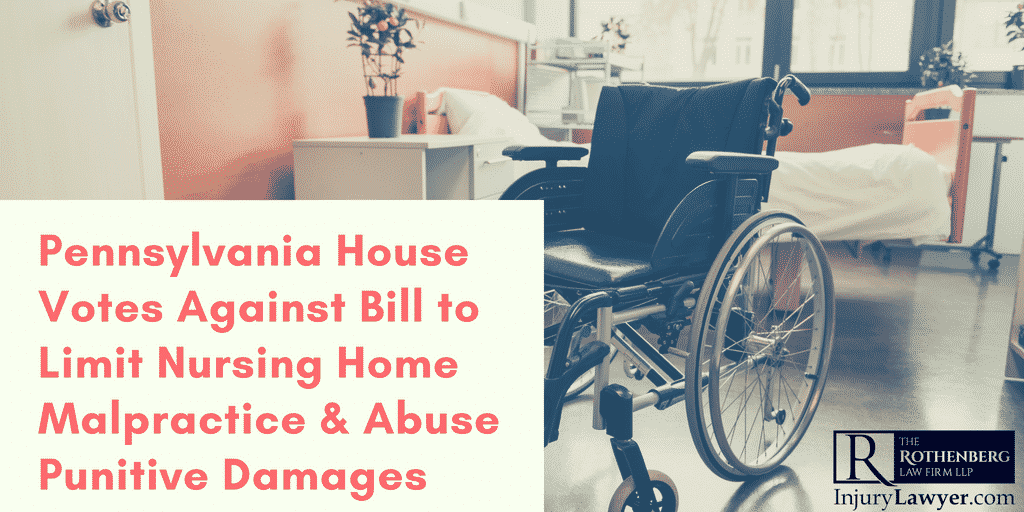 Philadelphia Nursing Home Abuse Patients Will Still be Able to Seek Punitive Damages in Personal Injury Lawsuits
If an elderly person suffers serious injuries at a Philadelphia nursing home, he or she has a number of remedies available if he or she decides to file a claim. One of those remedies is known as punitive damages. The Pennsylvania House recently voted against a measure that would limit punitive damages in nursing home malpractice and abuse claims in Philadelphia and throughout the state, according to an article in the Penn Record. As such, plaintiffs in nursing home negligence and abuse claims can continue to seek punitive damages when they are appropriate to the facts of the case.
Punitive damages are just one type of damages award in a civil lawsuit. Unlike compensatory damages, which compensate a plaintiff for losses, punitive damages are only awarded in cases in which the nursing home facility (or its staff members) behaved in such a reckless or harmful way that punishment is appropriate. Punitive damages are awarded to the plaintiff, but they are designed to punish particularly bad acts by the defendant and to deter similarly harmful behavior in the future. If you suspect an elderly loved one is a victim of nursing home malpractice or abuse, contact a nursing home abuse attorney to discuss your options for filing a claim.
The Pennsylvania bill, according to the article, "would have applied the Medical Care Availability and Reduction of Error (MCARE) Act to nursing homes and assisted living facilities, capping punitive damages at 250 percent of the total compensatory damages award." Initially, the bill barely passed in the House Judiciary Committee, and then it was defeated when it went to a full vote.
Get the Facts About Nursing Home Malpractice and Abuse
Those who opposed the bill highlighted that punitive damage awards are rare and that they are saved for only the most egregious cases. As such, it is important to keep unlimited punitive damages an option for patients who suffer serious harm as a result of gross nursing home negligence or intentionally harmful behavior.
Nursing home malpractice and abuse is a serious problem in Philadelphia and across the country. The World Health Organization (WHO) cites the following facts and figures to emphasize the severity of elder abuse and nursing home negligence, and how to recognize it:
About one out of every six seniors aged 60 and older experience some type of elder abuse or nursing home negligence in any given year, and those statistics likely are lower than the actual number given underreporting;

Experts predict that only about one out of every 24 cases of elder abuse is actually reported;

Nursing homes and assisted-living facilities are some of the most common places in which elder abuse occurs, with two out of three staff members admitting that they may have committed an act of elder abuse or neglect in the last year;

Elder abuse and nursing home malpractice often results in both physical and emotional or psychological injuries; and

By 2050, the global population of seniors is expected to double, which will also mean a drastic rise in the rates of elder abuse and nursing home negligence.
If you have concerns about an elderly loved one's safety, you should speak with a nursing home abuse attorney.