Many people today travel by plane because it is a convenient and fast mode of transportation. Airplanes allow you to cross vast distances in a matter of hours, so traveling for business, vacation, and visiting friends and family is easy. There's no doubt that the invention of air travel has changed the world for the better.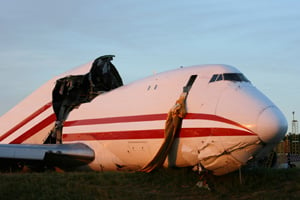 However, as with all of the benefits of air carriers (both commercial and private planes), accidents can and do happen for a host of reasons. It could be due to negligence on the part of the manufacturer or the pilot, for example. Although they are relatively rare, airplane accidents, as well as helicopter accidents, cause injuries and deaths each year.
According to the National Safety Council, the number of accidents involving civilian aircraft in the US was 1,302 in 2019, and the number of deaths was 452. Four hundred and forty-four of the plane crash deaths were onboard fatalities and eight involved a commercial airline. This doesn't account for all of the personal injuries. Even though airplane accidents are not a common occurrence, you need to know what to do if something happens to you or a loved one.
What happens in the aftermath of an airline accident? What type of recourse do those who were injured, or their surviving family members, have in these types of aviation accident cases? Often, civil law will allow injured parties and surviving family members to hold those responsible accountable and to seek compensation. The situation may have caused a  wrongful death or other personal injury due to the negligence of an air traffic controller, or pilot error. Or, perhaps there was an issue with the plane itself that an aircraft manufacturer, like Boeing, might be responsible for.
Naturally, after these types of plane accidents, it can be difficult to know what to do and where to turn next. Those who have been involved in these types of airline crashes should seek counsel from an experienced airplane accident attorney for a free consultation and guidance.
What Are the Rules?
It's important to understand that the laws and protocols in this area of aviation law can vary depending on whether a commercial plane, private airplane, or other types of private aviation devices are involved.
Commercial aviation companies are often referred to as common carriers. These are businesses that transport cargo or people for compensation. There are state and federal regulations that govern the activities of common carriers. This includes not only commercial airplanes but also trains and buses. Typically, common carriers are held to a higher standard of care than a private party.
The Federal Aviation Administration (FAA) keeps detailed records and reports of airline accidents. To get a closer look at the information, you can view the incident data at the agency's research website, which is found HERE.
What Happens After an Accident?
What happens in the aftermath of a plane crash? After the shock and assessment of injuries, getting medical attention is the number one priority. The next  priority is to determine what caused the accident to occur.
What was the Cause of the Plane Crash?
Given the violent and dramatic nature of aerial crashes, investigating and finding the cause can be difficult. Some of the evidence that would typically provide some insight into the causation of the accident will be destroyed. It can be hard to find out whether it was a mechanical failure, a manufacturing defect, or a pilot error that caused the accident.
Consider all of the various things that could cause a plane to crash, and you'll start to understand why the investigation portion can be time-consuming and difficult. However, there are a few common causes.
The most common is pilot error. Even well-trained pilots can make mistakes or become distracted. Some of the following types of pilot mistakes could lead to accidents that may cause them to be held liable in the event of an accident.
The pilot did not make all of the proper safety checks before taking off in the plane.

The pilot did not follow the air traffic safety directions.

The pilot made course adjustment errors.

The pilot ignored instrumental read-outs that let them know there was a dangerous situation.

The pilot did not consider environmental or weather factors before, during, or after the flight.
Pilot negligence is not the only potential cause, though. There could be design flaws, mechanical failure, extreme weather conditions, or combinations of these types of issues.
Just about everyone remembers US Airways Flight 1549 and its pilot, Captain "Sully" Sullenberger. When taking off, the plane hit a flock of Canadian geese mid-air, causing the aircraft to lose power in both of its engines. Fortunately, Captain Sullenberger was experienced and quick-thinking. Knowing he couldn't reach either LaGuardia or Teterboro, he made an emergency water landing on the Hudson River, ensuring that everyone aboard survived.
The takeaway from that story is that airplane accidents can happen for just about any reason— even a flock of geese.
Collecting Evidence and Finding Out What Happened
All evidence that remains needs to be collected, preserved, and studied to hopefully get a better understanding of what caused the plane crash to occur. This could include the physical parts of the plane, which might show a flaw in the design by the parts manufacturer, or it might include the black box recording, which can sometimes provide insight.
However, it's important to keep in mind that even though commercial airplanes require black box recorders, they aren't always found on all private aircraft. Different types of aircraft have different requirements via the National Transportation Safety Board. Certain smaller light aircraft may not require black boxes. If an aircraft can hold more than 20 people, or more than six and requires two pilots, it needs to have a black box. If it's smaller, it doesn't. Therefore, the type of aircraft plays a role in how aviation cases are determined and whether or not the victims, survivors, or relatives will be able to file a personal injury claim, wrongful death claim or get any sort of compensation for medical bills and pain and suffering.
After the evidence has been gathered and the cause of the accident is determined, airplane accident lawyers can then determine whether there is a basis for a lawsuit or not. There are all sorts of situations that can occur from product liability to pilot error, so it's vital in an aviation crash that you work with an attorney who not only understands general aviation but can also work with the requirements set by the NTSB, as well as insurance companies, to ensure your case is handled properly.
Damage Awards for Airplane Accidents
Do you have grounds for a lawsuit? Are you eligible for compensation and do you want to make sure the appropriate parties are held accountable? You need to talk with an airplane accident lawyer, and the sooner you do so the better.
When you are choosing an aviation accident attorney to represent you, you must consider the amount of experience they have working in this field. A personal injury attorney may not have experience with aviation accident lawsuits just because they have worked on a car accident, for instance. Find an aviation attorney who knows and understands the laws surrounding aircraft accidents, whether it was a plane or helicopter crash. They can help you understand the reality of your situation and what you need to do next.
If you or a loved one sustained an injury due to an airplane crash, it's time to contact an airplane accident lawyer at The Rothenberg Law Firm LLP at 1-800-624-8888. Alternatively, you can submit an InjuryLawyer.com free online case evaluation.
Why should you consider working with us? The initial consultation with us is FREE of charge. You don't have any obligation. You can determine whether we are the right attorney for you when you meet with us and get a better sense of how we work.
Additionally, we work on a contingency basis. What does this mean? If we agree to handle your case, our attorney-client relationship means that you will not have to pay any legal fees unless we are successful in getting you money.
It's important to remember that there may be an impending statute of limitations on your case. If you don't file your lawsuit before that "expiration date", you won't be able to file. You deserve compensation for your serious injuries, and you need to be sure the right people are held accountable for what happened. Make sure you get in touch with us as soon as possible. This way, you will ensure that you don't waive your rights to money, damages or other benefits.