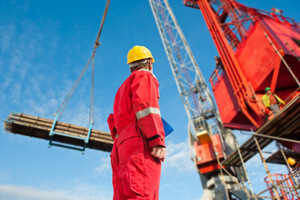 Construction Accident Leaves Worker with Serious Injuries
Early last month, a serious crane accident on the Garden State Parkway left a New Jersey construction worker with severe injuries. According to a recent report from NJ.com, the employee, had been operating the crane in a construction zone when it "overturned and fell down an embankment, ejecting him into the water." The incident occurred at around 10:00 a.m. in Brick, close to mile-marker 91.
The construction worker was rushed by airlift to Jersey Shore University Medical Center. The New Jersey State Police and the Brick police department continue to investigate the construction accident and the extent of the workers injuries have not been disclosed to the public. This serious incident happened only a few months after a different crane operator was killed in Newark Bay. Last summer, a construction worker died after the crane he had been operating overturned and sank into the water and mud.
The risk of a crane overturning is very real, and construction workers can suffer serious and fatal injuries in these accidents. Are crane operators at particular risk of harm on construction sites?
Crane and Hoist Safety: Get the Facts
According to the Occupational Health and Safety Administration (OSHA), each year more than 250,000—a quarter of a million—crane operators "are at risk of serious and often fatal injury due to accidents involving cranes, derricks, hoists, and hoisting accessories." Each year, an average of between 70-80 fatal construction accidents involve crane operators, and more than 1,000 injuries are linked to the use of cranes, hoists, and related machines.
What causes serious and fatal crane accidents? The following causes typically account for most, if not all, of the serious crane incidents on record:
Overturns;
Contact with power lines;
Falls from the crane; and
Mechanical failures.
Over a recent ten-year period, OSHA determined that the use of cranes in lifting operations accounted for nearly ten percent of all fatal construction accidents. It should not come as a surprise that cranes can be particularly dangerous. They lift construction workers hundreds of feet off the ground and they can overturn more easily than other vehicles.
What can workers and employers alike do to reduce the number of deadly crane accidents at construction sites? OSHA suggests taking the following steps:
Assessing the work area to prevent a serious crane accident, which includes identifying potential hazards like power lines, underground pipelines, and soil preparation;
Establishing a crane safety plan each time a lift takes place, and assigning responsibility to enforce safety protocols to one or more of the construction workers onsite;
Assigning safety responsibility for crane operations to a construction team member who has been properly trained in crane safety and has specific knowledge of safety standards and protocol;
Using a qualified crane operator; and
Training all ancillary workers in crane safety.