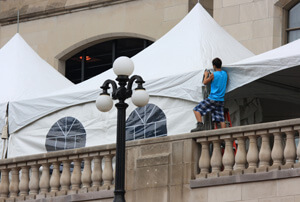 Are Temps More Likely to Suffer Serious Injuries at Work?
Temporary employees tend to suffer more workplace injuries than do other employees. According to a recent article in the New York Times, the number of employees in temporary positions has grown drastically over the last decade, and those temps are taking jobs with greater risk of work injuries. About 42 percent of all temps are employed in warehouses and industry. As a result, "the injury rate for workers on the job for just one month...is more than twice that of workers employed for a year."
Based on data collected by the Bureau of Labor Statistics (BLS), temp agencies across the country currently employ nearly three million workers. According to the article, temps "represent a record share of the nation's work force, two percent."
One worker advocacy group, the National Employment Law Project, plans to release a report in which it emphasizes the dangers of many temp jobs. Not only do temporary employees make less money than a permanent or full-time employee doing the same work, they are usually performing hazardous work. The advocacy group's report states that more than 40 percent of temp jobs are classified as "light industrial." There are actually twice the percentage of temp workers in light industrial jobs than in office and administration temp jobs. That number has risen significantly over the last two decades. In 1990, temps employed in light industrial work accounted for only 28 percent of all temporary positions.
Rebecca Smith, deputy director of the National Employment Law Project, stated that "there is certainly a lot of evidence that many of these jobs are not good on health and safety and other working conditions." According to a recent study published in the American Journal of Industrial Medicine, "temps had substantially higher rates of injuries, especially in construction and manufacturing, than other workers." Given the severity of many of these injuries, temp employees also missed more work due to injury than regular employees.
Light Industry and Protecting Temporary Workers
Light industry typically includes jobs in the construction and manufacturing fields. Many light industry temp employees work in warehouses and manufacturing centers, and a number of them work with heavy and hazardous equipment.
According to the Occupational Safety and Health Administration (OSHA), protecting temporary workers is a serious concern. A recent OSHA news release emphasized, "staffing agencies and host employers are jointly responsible for maintaining a safe work environment for temporary workers."
OSHA provides some of the following tips for preventing temporary worker injuries, and for ensuring that the companies responsible for these employees provide a safe working environment:
Temp placement agencies and host employers must communicate to ensure worker protections are in place;
Staffing agencies must "inquire into the conditions of their workers' assigned workplaces," and "must ensure that they are sending workers to a safe workplace;"
Staffing agencies may not claim ignorance of hazards as an excuse for temps' injuries; and
Host employers must "treat temporary workers like any other workers in terms of training and safety and health protections."
If you were seriously injured at work regardless of your status as a temporary, part time or full time employee, you may be entitled to compensation for your injuries. It is important to contact an experienced attorney to discuss your rights.