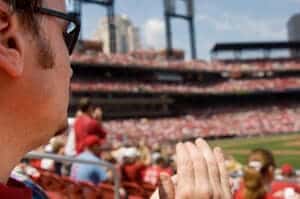 Anyone involved in organized sports already knows the importance of remaining alert and keeping an eye on the ball during a game, both to make a play and to avoid a potentially serious injury. What about spectators at the ballpark? Many people who frequent sporting events are familiar with the protective netting and barriers meant to keep baseballs, hockey pucks, and footballs from striking spectators. Baseball, in particular, shields its fans behind home plate from sharply hit foul balls.
With some high profile injuries and lawsuits of late, many experts studying the issue of spectator safety wonder whether teams are doing enough to protect their fans and ensure everyone leaves the park with fond memories and in good health. According to reports, as many as 1,750 fans suffer injuries every year at professional baseball games, including the minor leagues.
Will MLB Require More Protective Netting at Baseball Parks? 
In response to spectator lawsuits against baseball clubs, MLB says it issued a press release to all 30 teams encouraging clubs to extend safety netting at parks and take other safety precautions to ensure fans leave the game without injury. Specifically, the press release stated, "Clubs are encouraged to implement or maintain netting…that shields from line-drive foul balls all field level seats that are located between the near ends of both dugouts."
While MLB's press release calling for expanded netting around dugouts is encouraging, it falls short of ensuring teams follow through with a mandate. Like many organizations and government agencies, it is unlikely all MLB clubs will institute any changes until compelled to do so by the league or municipalities. Currently, only eight of the 30 teams in MLB have the recommended additional 70 feet of netting from behind home plate to the beginning of the dugouts.
NYC Could Soon Mandate Protective Netting at Citi Field, Yankee Stadium 
In May 2017, New York City councilman Rafael Espinal Jr. penned an open letter to clubs and fans calling on the city to mandate any baseball team in the city "install additional protective netting from home plate to the foul poles as a matter of public safety." If adopted, the measure would go beyond MLB's recommendations, setting a new standard for visitor safety at parks.
Although the safety measures are long overdue, the discussion is none the less encouraging as protecting fans and creating the best game day experience should be the top priority of any baseball team.