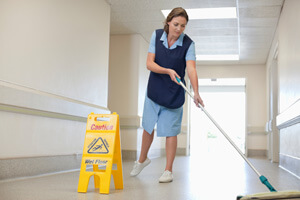 Workplace Injuries at Medical Centers
If you work at a hospital or other medical facility, are you at increased risk of sustaining a workplace injury? While work injuries among the healthcare community are not as widely publicized as others, they happen with some frequency. According to a news release from the Occupational Safety & Health Administration (OSHA), the agency recently cited the Bergen Regional Medical Center for injuries sustained by eight different employees in the course of three months.
According to the news release, the eight healthcare workers at the facility in Paramus, New Jersey suffered injuries resulting from violent patients. A worker complained to OSHA about the violations at the medical center, and the agency sent an inspector to the facility. It discovered eight separate incidents of workplace violence and other harms. Specifically, employees reported the following incidents to OSHA:
Patients barricading workers in a room;
Patients threatening employees;
Patients intentionally exposing workers to blood borne pathogens; and
Patients biting, punching, and kicking medical center employees.
According to Lisa Levy, the director of the OSHA Hasbrouck Heights Area Office, "Bergen Regional Medical Center's management recognized workplace hazards, but lacked adequate procedures to prevent employee exposure." Levy went on to explain that the proposed penalties of $13,600 are intended to underscore the need for a greater attention to workplace hazards.
Workplace violence is among the most common cause of employee injuries for those in the healthcare field. All hospitals are required by law to provide a safe and healthy workplace for their employees.
Healthcare and Workplace Injuries
What are the most common kinds of workplace injuries suffered by employees in healthcare fields? According to a fact sheet from the Centers for Disease Control and Prevention (CDC), more than 18 million employees in the country work in healthcare jobs, and women fill about 80% of those positions. What are the most commonly reported injuries? The CDC cites the following as the most common hazards faced by healthcare workers:
Needlestick injuries;
Back injuries;
Latex allergy injuries;
Violence; and
Stress.
The CDC emphasizes, "cases of nonfatal occupational injury and illness among healthcare workers are among the highest of any industry sector." In other words, while healthcare workers are not at a particularly high risk of sustaining a fatal workplace injury compared to employees in other industries, healthcare workers are at an extremely high risk of sustaining a nonfatal workplace illness or injury. OSHA cites the following statistics to show the scale of healthcare workplace injuries:
In 2010 alone, the healthcare industry reported 653,900 workplace illnesses or injuries. To put that number in perspective, it is "152,000 more cases than the next industry sector: manufacturing."
The annual incidence rate of nonfatal illnesses and injuries in healthcare is 139.9, compared with 107.7 in all other private industries.
Musculoskeletal disorders are among the most commonly reported healthcare workplace injuries, which typically occur among nursing aides, orderlies, and attendants. The incidence rate for these injuries is 249 for every 10,000 employees.
Workplace injuries can happen at any place of employment, and healthcare jobs can be especially risky for nonfatal workplace injuries and illnesses. If you have been injured at work, contact an experienced attorney to determine your rights.