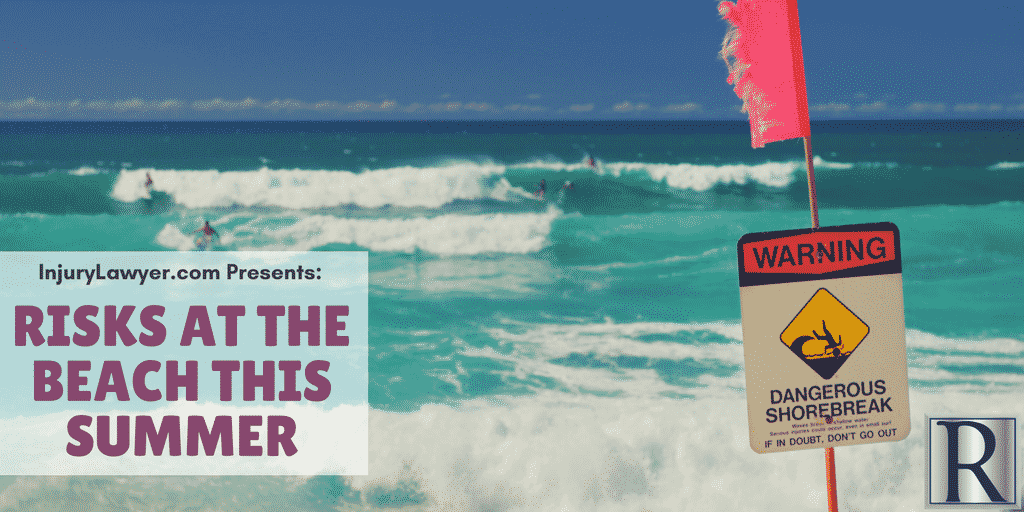 New York and New Jersey Residents Should be Aware of Hazards at the Shore
For many families in New York and New Jersey, summer is a time to spend family vacations on the shore. Whether you are spending the day at Coney Island or a weekend on the Jersey Shore, there are hazards at the beach that can result in serious injuries. At the same time, many of these accidents and injuries are avoidable. According to a news release from the National Oceanic and Atmospheric Administration (NOAA), there are particular dangers around the beach that families should keep in mind.
Some hazards concern swimming in the ocean. For instance, rip currents can happen along many shorelines, yet most beachgoers do not know what to do in the event that they get caught in a rip current. According to the NOAA, rip currents "account for more than 80 percent of rescues performed by surf beach lifeguards." What is a rip current? Rip currents are "powerful, channeled currents of water flowing away from shore that quickly pull swimmers out to sea." You do not have to be swimming far into the ocean to get caught in a rip current. They can begin along the shoreline and go out past the line where the waves break. What can you do if you are caught in a rip current? Do not fight it! Instead, swim parallel to the shore, and head back toward the beach at an angle.
Understanding the risks associated with heat and sunburn is also essential for avoiding accidents and injuries at the beach. Heat-related deaths, according to the NOAA, actually account for more fatalities than those occurring in natural disasters such as floods, tornadoes, hurricanes, and thunderstorms. When you have been exposed to excessive heat, symptoms of heat disorder may include "sunburn, heat cramps, heat exhaustion, and heat stroke." In addition to heat disorder, a serious sunburn can also be cause for alarm. Signs of a severe sunburn can include "headache, chills, or a fever."
Safety Tips for the Shore
 What can you do to keep your family safe at the beach this summer? A report from NBC New York recommends the following safety tips:
Do not forget to bring and apply sunscreen;
Bring a life jacket if you are not a strong swimmer and plan to be near the shore or to swim in the ocean;
Only swim when a lifeguard is present, and near a lifeguard stand;
Obey any posted warning signs or flags at the beach;
Always bring a "buddy" to the beach with you if you are going to be swimming or walking near the shore;
Recognize that children and elderly family members may not be particularly strong swimmers, and pay close attention to them when they are near the water;
Know how to recognize dangerous plants and animals in the ocean, and stay away from them;
Learn about rip currents and how to stay safe if you get caught in one; and
Always enter the ocean feet first since the water is likely too shallow for diving.
Stay safe and enjoy the rest of your summer!