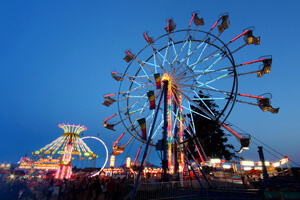 Amusement Park Injury Risks
As summer approaches, many families will plan trips to amusement parks. However, in rare cases, recreational activities can result in serious and even fatal injuries. According to a recent report from ABC News, "two recent, high-profile accidents are once again bringing carnival safety to the forefront."
Whether you are taking your kids to a local carnival or are traveling to a major amusement park, it is important to understand that these rides are not always safe for everyone. For instance, the ABC News report cites an injury in which an 11-year-old girl's hair was caught in an amusement park ride, which may result in permanent disfigurement. Also recently, a teenager suffered fatal injuries after being "thrown from a ride" at a local amusement park.
While those incidents largely involve smaller, local parks, major theme parks have also been in the news in relation to serious personal injuries on seemingly safe rides. According to a recent article in the Orlando Weekly, the parent company for the major theme parks of Legoland Florida and the Orlando Eye admitted fault for a serious theme park accident. In that incident, a rollercoaster car containing theme park guests crashed into an empty rollercoaster car. The accident resulted in two visitors suffering amputations, and the company indicated that the crash occurred because of operator error.
Tips for Amusement Park Safety
According to a fact sheet from the International Association of Amusement Parks and Attractions (IAAPA), the likelihood of suffering an amusement park injury is only 1 in 24 million. Moreover, the fact sheet explains that "more than 315 million people visited approximately 400 amusement parks in the United States in 2014 and took 1.4 billion safe rides." Yet as the ABC News report emphasizes, accidents do happen.
Therefore, what can we do to keep our kids safe at carnivals and theme parks this summer? A tip sheet from Saferparks.org recommends some of the following:
Do your research into the safety of the ride for your child's age and size.
Some amusement park rides simply may not be safe for your child. You should ask yourself some of the following questions: Will your child be able to stay seated and follow directions? Does your child fit snugly within the safety restraints on the ride?
Obey ride restrictions on height, weight, age, and medical conditions.
Never attempt to sneak your child onto a ride for which he or she does not meet the minimum height, weight, or age restrictions. It is also important to abide by the health restrictions that you often see posted on rides.
Watch your child's extremities on all rides.
If a ride has open spaces in which your child's arms or legs can reach beyond the ride—particularly if they get excited or scared—the ride might not be the best one for your child.
Follow safety instructions about seating, loading, and unloading.
At amusement and theme parks, ride instructions are used to keep passengers safe and free from serious injuries. Teach your child to listen to all instructions and do not allow him or her to disobey any of these safety instructions.
If you or your child sustained injuries at an amusement park, you may be able to file a claim for financial compensation. Contact a personal injury attorney to determine your rights.