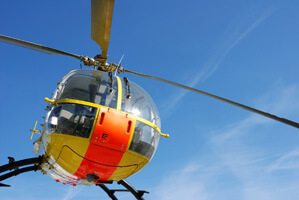 Whether on the ground, in a car or high above in the air in a helicopter, accidents can change the course of someone's life forever. In fact, helicopter crashes are becoming more common today, and have severely injured many New Yorkers.
New York Man Dies in Helicopter Crash
Two weeks ago, a businessman from New York was killed in a helicopter crash in the Bahamas. The helicopter left Marsh Harbour International Airport on November 22nd with five passengers. According to a report executed by the Bahamas Ministry of Transportation and Aviation, the pilot lost control when attempting to land at the Baker's Bay Gold and Ocean Club on Abaco's Great Guana Cay. Police arrived on the scene to conduct their own examination of events and collected the names of witnesses and victims but did not immediately release the information to the press. No other determinations have been made at this point, and further testing will be done to find out what caused the helicopter to crash. In addition to looking into the pilot's actions and competence, investigators will examine the parts of the helicopter and the location of the crash to see which factors contributed to the accident.
In an official statement released by the Ministry of Transportation and Aviation, they "extend…sincere condolences to the family of the deceased and…best wishes for the speedy recovery of the survivors of the crash." Although five people survived the crash, including the Florida real estate developer and billionaire owner of the Fontainebleau Hotel Jeffrey Soffer, a New York businessman on board did not make it.
Air Accidents
Helicopters and airplanes are modes of transportation where passengers rely on the expertise and reasonable conduct of pilots to transport them safely to their destination. When an accident is about to occur, there is not much a passenger can do to prevent injury.
Even in the most minor accidents, passengers may require medical care for their injuries. If you are passenger involved in a helicopter accident, then you should contact a legal professional to discuss your right to financial compensation for your injuries.
A competent personal injury attorney can answer all of your questions and provide information regarding your legal rights.