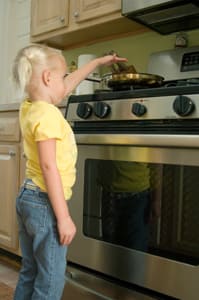 Scalding and Childhood Burn Injuries
When we think about burn injuries, many of us think about serious burn injuries that result from a fire. But according to a recent report from Fox 2 News, we need to pay more attention to the risks of scald injuries. Scald burns, the report emphasizes, are "the second leading cause of all burn injuries" in our country. While scald burns can happen at any age, child injuries are particularly common. As the report explains, "due to the thinner skin of children, it takes only two seconds to acquire a third-degree burn."
What kinds of accidents typically result in scald burns in children? Nearly any domestic activity that involves hot water or other hot liquids can quickly lead to a trip to the emergency room. The report lists some of the following common household causes of severe scald injuries:
Hot bath water;
Hot coffee or tea;
Hot stovetops; and
Microwaved foods.
Simply heating up a meal for your child without realizing just how hot it is, can cause a serious scald burn.  The report cites, in particular, hot liquid foods such as soups. Running a bath at a temperature that is simply too hot for your child can also lead to burn injuries. To give you a sense of how short a time it takes for a child's skin to burn in hot water, the average young child will suffer a burn injury within five seconds in hot water of 140 degrees, and within 30 seconds in hot water with a temperature of 130 degrees.
Preventing Scald Injuries in Children
According to a fact sheet from the American Burn Association, the following statistics show how common burn injuries are among children and adults alike:
Last year, about 486,000 people sustained burn injuries that required medical treatment.
Around 40,000 people were hospitalized in 2015 for burn-related injuries.
Of those hospitalized, about 30,000 required hospitalization at a specialized burn center.
More than one-third (34%) of all burn admissions to burn centers between 2003-2012 resulted from scald injuries.
Of those scald injuries, nearly three-fourths (73%) happened at home.
What can we do to prevent scald injuries at home? According to the report, parents should pay attention to the following safety tips:
Always test the temperature of bath water before placing your infant or young child in the tub.
Keep hot water heaters at 120 degrees or below.
Create a "no kid" zone around the stove whenever you are cooking.
Use the backburner on your stove to prevent appliances with hot food or liquids from overturning.
When you are heating food or boiling water, keep pot handles turned away from the edge of the stove.
Do not use wet oven mitts.
Always replace worn-out oven mitts.
Stir and test microwaved food before serving your child, as microwaves heat products unevenly.
Do not hold your child while you are cooking.
Do not hold your child while you are drinking hot liquids.
If your child recently sustained burn injuries, you may be able to file a claim for compensation. Contact an experienced child injury attorney to learn more about your rights.