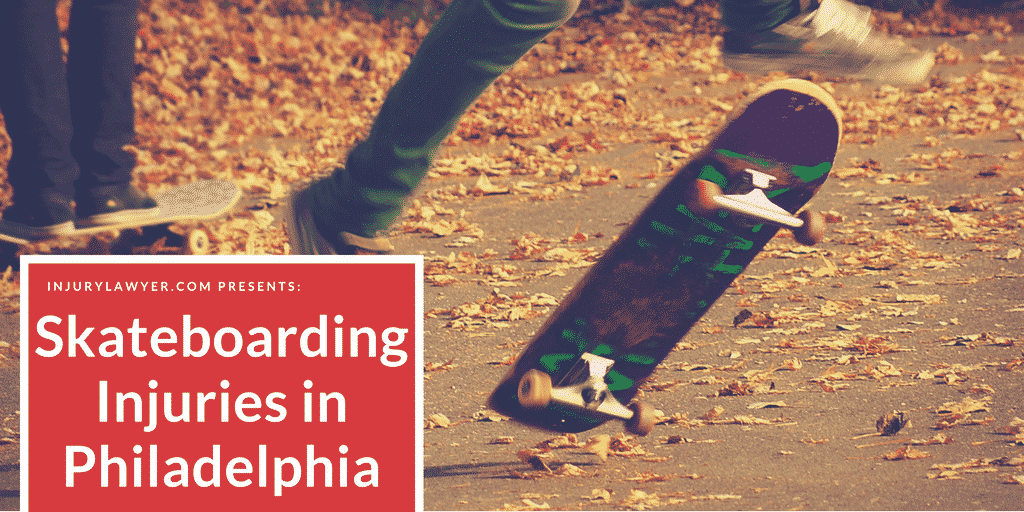 Children and Adolescents Sustain Injuries Related to Skateboarding in Philadelphia
Many children and teens in the Philadelphia area enjoy skateboarding as a recreational activity, but it is important to understand that it comes with injury risks. According to an article in Philly.com, skateboarding-related injuries result in about 50,000 visits to emergency departments every year for children and adolescents, and about 1,500 hospitalizations.  Keep in mind that there are ways to reduce the risk of skateboarding accidents and injuries.
First, parents should know that first-time skateboarders are at higher risk of injury because they are not yet acclimated to riding. About one-third of all emergency department visits connected to skateboarding involve first-time skateboarders or those who have been skateboarding for less than a week.
Next, parents can help to reduce the risk of their kids' injuries from skateboarding by understanding where most accidents and injuries occur, further taking precautions to prevent specific types of injuries. As the article explains, a majority of skateboarding accidents that require visits to the hospital happen on "public roads, sidewalks, and in parking lots." In some cases, skateboarders suffer injuries in collisions with pedestrians, bicyclists, and motorists. What types of injuries are most common among young skateboarders? More often than not, skateboarding injuries result from falls and collisions. This means that most injuries are sprains and/or fractures to the skateboarder's wrists or ankles, and concussions.
Younger skateboarders may be at greater risk of injury than older teens who skateboard because their center of gravity is higher, and "their neuromuscular system is not well developed, making them less able to protect themselves from injury." Younger kids also have more difficulty judging their own abilities and knowing how to stay safe in traffic.
Safety Tips for Philadelphia Skateboarding
 What can kids and parents alike do to help prevent skateboarding injuries? According to the article, the following are some important safety tips to help reduce the risk of skateboarding injuries in children and adolescents:
Always wear a helmet that fits properly and meets or exceeds current safety standards (a properly fitting helmet should sit low on the child's forehead and cover the back of the head, should have side straps, and should have a buckle that fastens with room for just two fingers to fit between the chin and the helmet strap);
Always wear wrist guards (these can reduce the risk of a wrist sprain or fracture by about 90%);
Always wear elbow pads (these can reduce the risk of an arm sprain or fracture by about 80%);
Always wear knee pads (which can reduce a child's injury risk by around 30%);
Never ride a skateboard on the street;
Never allow children younger than 5 years old to ride a skateboard, and always monitor children between the ages of 6-10 on skateboards;
Encourage your child to practice falling so that they know how to relax, roll, and land on "fleshy parts of the body rather than on their arms; and
Encourage your child to skateboard only at skate parks, where safety can be monitored and your child can avoid collisions with pedestrians, bicyclists, and motorists.
If another party's negligence caused you or a loved one injuries, contact an accident lawyer to determine your rights.