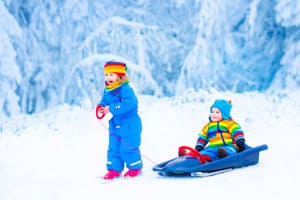 Common Winter Activities Pose Risks to Children
Children of all ages enjoy activities made possible by snow and cold temperatures. Do these winter activities pose particular risks of child injury? What can you do to prevent child injuries from happening? According to a recent article in Business Wire, with the fun of wintertime activities "comes the chance of serious injuries unless parents and their children take some basic precautions to minimize the danger."
Some of these activities are not ones that a child would normally enjoy in his or her own backyard. For instance, winter activities such as skiing and snowboarding require specific areas on which to engage in these activities. When kids do want to try downhill skiing or snowboarding, it is important that they have the proper training and education. Instructors can help to ensure that teens and children know the basics of navigating slopes, controlling their speed, and wearing proper protective gear.
While activities like skiing and snowboarding are not usually activities that can be done in one's backyard, other activities like sledding and ice skating are more common in backyards and neighborhoods. Many parents do not think about sledding, in particular, as a risky activity. Yet, as the article notes, "sledding leads to a significant number of injuries each year."
In fact, the American Academy of Pediatrics reported that about one-third of all sledding injuries are serious ones, eg. broken bones, while another 6% tend to be severe vertebral fractures. To minimize the risk of an accident while ice skating or sledding, it is important to teach your kids to wear protective gear, including wrist guards and helmets. When sledding, children should also learn to "always face forward and sit up on the sled, and stick to hills that are free of obstacles, like trees."
Learning More About Child Injuries
Some of the sports and activities most commonly associated with winter injuries, include but are not limited to:
Downhill skiing;
Snowboarding;
Sledding; and
Ice skating.
If your child suffered a serious injury during a recreational activity, you may be able to seek financial compensation on his or her behalf. Contact a child injury attorney to determine your child's rights.