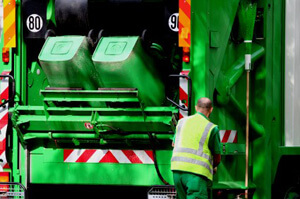 Louis Camarillo, an 18-year-old recycling worker, died on the job in Brooklyn, NY after being struck by a rear-loader's compaction blade.  According to the New York Daily News, Camarillo was on the back of the truck when it made a drop off at a recycling plant. A number of witnesses saw the accident and reported that Camarillo "got snagged by the hydraulic door as it came down, and it crunched his midsection."  Emergency medical workers responded to the scene and rushed the unconscious Camarillo to the hospital where healthcare providers were unable to save him.
Unfortunately, accidents like these happen all too often.
Workplace Fatality Statistics
In a late 2012 news release, the U.S. Bureau of Labor Statistics (BLS) reported that 4,609 workplace fatalities occurred in 2011.  Of the fatalities reported, 10 percent occurred when an employee was "struck by an object or equipment" while on the job.  The BLS found that Camarillo's employment as a recycling worker actually made him statistically more likely to suffer a fatal injury than many other types of employment.  According to the BLS's findings, refuse and recyclable material collectors have the fourth-highest rate of fatal work injuries (after fishing workers, logging workers, and aircraft pilots).
Moreover, the total number of workplace fatal injuries rose in New York between 2010 and 2011.  Overall, New York State saw an increase in total workplace fatalities from 182 to 205, and New York City alone from 68 to 71 fatalities.  Of those fatalities, nearly 20 percent occurred when an employee had "contact with objects and equipment."
OSHA Compliance and Employer Liability
Are employers liable in these cases?  Employers are required to comply with OSHA standards to avoid liability.  In general, employers are required to keep the workplace free of serious recognized hazards.  Yet, many employers across the country fail to account for the same basic safety and health issues.
There are several key steps that employers must take in order to be in OSHA compliance.  Failure to comply with some of these basic safety and health protocols can lead to serious injury.
Did Camarillo's employer take certain required steps to comply with OSHA and to ensure the safety of its employees?  When performing its investigation into a workplace death such as Camarillo, OSHA will ask key questions to determine employer liability:
Does the employer have a systematic safety approach?
Employers must make clear, systematic efforts to target a goal of  workplace safety and to ensure that all employees understand safe  workplace practices.
Does the employer adequately document its safety efforts?
In order to be in OSHA compliance, employers must undertake safety education and training, and they must document these efforts.
Does the employer have regular safety meetings?
Does the employer ensure new-hire safety orientation?
Does the employer respond to safety audits and recommendations?
Does the employer respond and take action when employees voice concerns about workplace safety issues?
Does the employer regularly inspect its work environment for safety issues?
Walk-throughs and self-inspections are extremely important for ensuring a safe and healthy workplace.
Does the employer have safety rules, and does it enforce them?
An article in EHS Today explains that the above rules are essential to a safe workplace.  They should not only be in writing and explained to newly-hired employees, but should also be reviewed on a periodic basis throughout each employee's period of employment. Although employers are required to follow OSHA's regulations, many of them are not in compliance. Therefore, employees should also make sure to be aware of their work environment at all times.
Fatalities from workplace injuries are common and have unfortunately been on the rise in NY. If you have been injured at work, feel free to contact an experienced injury attorney to discuss your case.