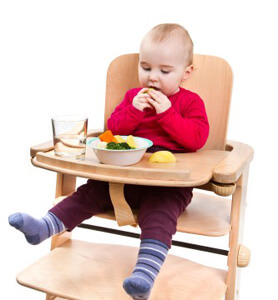 Child Injury and Defective Products
Are our children safe in high chairs? According to a recent study published in the journal of Clinical Pediatrics, each year thousands of children suffer injuries from high chairs. These child injuries are often quite serious. In fact, close to 9,500 children visit emergency rooms with falls, cuts and other high chair-related injuries. This number represents a significant increase in the number of child injuries between 2003 and 2010. Indeed, the number of high chair-related injuries appears to have climbed nearly 22 percent.
Are high chairs more dangerous than they used to be? According to an article from WebMD, that reported on this recent study, researchers are unsure as to why there has been a rise in child injuries. Gary Smith, co-author of the recent study and director of the Center for Injury Research and Policy at Nationwide Children's Hospital in Columbus, suggests that parents may play a role in the rising number of high chair-related injuries. According to Smith, the data collected in the study indicated the fact that restraining straps were not used in many instances in which children were injured.
Yet at the same time, defective products might have contributed significantly to these child injuries. As Smith opined, the data collected for the study predates the Consumer Product Safety Improvement Act (CPSIA), which "imposed stricter safety testing on a range of household items, including high chairs." Since the law did not go into effect until 2011, it is likely that many parents continue to use high chairs that have not undergone more rigorous safety testing.
Even since the CPSIA went into effect, "millions of high chairs" have been recalled, but only about 10 to 20 percent are typically returned. In other words, it is likely that many parents continue to use high chairs that may be defective and dangerous.
How does the Consumer Product Safety Improvement Act (CPSIA) Work?
According to the U.S. Consumer Product Safety Commission, the CPSIA is a "landmark consumer product safety law" that contains "significant new regulatory and enforcement tools, such as the Consumer Product Safety Act."
In particular, the CPSIA has specific regulations for children's products. According to the Consumer Product Safety Commission, the Act requires the following of children's products:
They must comply with product safety rules.
In most cases, they must be tested to ensure that they comply with those rules by a "CPSC-accepted accredited laboratory."
They must have a "written Children's Product Certificate" as evidence that the product complies with the safety rules.
They must have "permanent tracking information" that is attached to both the product and its packaging, if possible.
They must have a "General Certificate of Conformity" if they have been manufactured in the U.S. or imported into the U.S.
In addition to the above mentioned requirements, there are special requirements for "durable infant and toddler products." According to the Consumer Product Safety Commission, these products are those that are intended to be used, or can reasonably be expected to be used, by children under the age of 5. They include but are not limited to: cribs, toddler beds, high chairs and booster seats, bath seats, child safety gates, infant carriers, changing tables, walkers, and strollers.
High chair accidents and legal remedies
If your child has been injured because of a defective high chair, you should speak to a products liability attorney to determine if you are able to bring a case on behalf of your child. If high chairs are defectively designed and/or manufactured or do not have adequate warnings, the manufacturer and/or retailer may be subject to a product liability claim. In some situations, strict liability may apply to the maker of the high chair. Strict liability is defined as the imposition of liability on a party without the finding of fault (such as negligence). Therefore, if your child was harmed by a defective product, such as a high chair, you may only need to show that the harm occurred as a result of a defect in the product.
Parents and care-givers must make sure to strap a child safely into a high chair every time the product is used. Using a high chair safely, should prevent many injuries. Unfortunately, some high chairs may have been designed or manufactured improperly. Therefore, individuals must be sure to stay informed about any safety recalls on high chairs.